If you're a parent, odds are your child has probably asked for a Frozen themed party…. If it hasn't happened yet, it's only a matter of time!
For reasons beyond any adult comprehension, Frozen has remained extremely popular. The original was released in 2013 and yet you probably still know all the songs. Then Frozen 2, released in 2019, has ensured that the Frozen craze has still not thawed!
If there is no avoiding it, you might as well do it properly.
So, let's get started on how to plan a Frozen party.
1. Fix a date
Timeline: 3 months before the party
Pencilling in a date is the best way to start planning a party. It gives you a definite deadline. Obviously, if it's for a birthday, the closer the actual date the better.
At PartyWizz, we usually recommend that parents don't rule out Sundays. Saturdays are the obvious choice, but for that reason, they tend to be busier.
Sundays are likely to be a lot calmer. You're therefore much more likely to get the booking (and guests) you want.
If you're planning on booking a venue or a function room, now is a good time to make the reservation. You might not find a Frozen themed venue, but you can make up for it with the games and the decorations.
Note: if you're planning your party during an extremely busy time of year (for example May or December), get started earlier. 6 months early isn't overshooting.
2. Determine the party space
Timeline: 3 months before the party
If you booked a venue, you're all set. You can skip this section. Otherwise, you're going to want to plan three party spaces :
One for food and presents
One for activities
One for free play where the kid's get to run around.
Of course, you can make do with just one or two spaces, but having three will make your life so much easier.
This allows you to prepare each space ahead of time and not worry about clearing things during the event. As a parent, the less you have to do on the day, the happier and more relaxed you'll be.
Depending on the age of the kids, these spaces don't necessarily need to be big. For example, it could be the dining room for food, the living room for activities and the garden for free play.
3. Book the entertainment
Timeline: 3 months before the party
If you're planning on booking entertainment, you should make your reservation sooner rather than later. Calendars fill up fast!
Obviously, for a Frozen party, the best is to book the Frozen princess (AKA Elsa) for some games, stories, magic and fun.
However, don't rule out 'generic' entertainment such as a bouncy castle, a pamper party or a magic show. The objective is to have fun. Not to emulate 100% of the movie. Choose according to your child's personal preferences.
If you're based in Ireland, you can book entertainers directly on PartyWizz. We're proud to partner with only the best in the business.
4. Make a guest list
Timeline: 1 month before the party
The number of guests you invite will depend on your child's age, their personality and what they want. Don't feel pressured to overdo it. Small parties are fine.
If you booked a venue, you probably have a limit on the number of guests you can bring.
Pro-tip: If you're going to be travelling by car during the party (for example to go to the venue or the cinema), make sure you organise carpools ahead of time so that everyone fits in.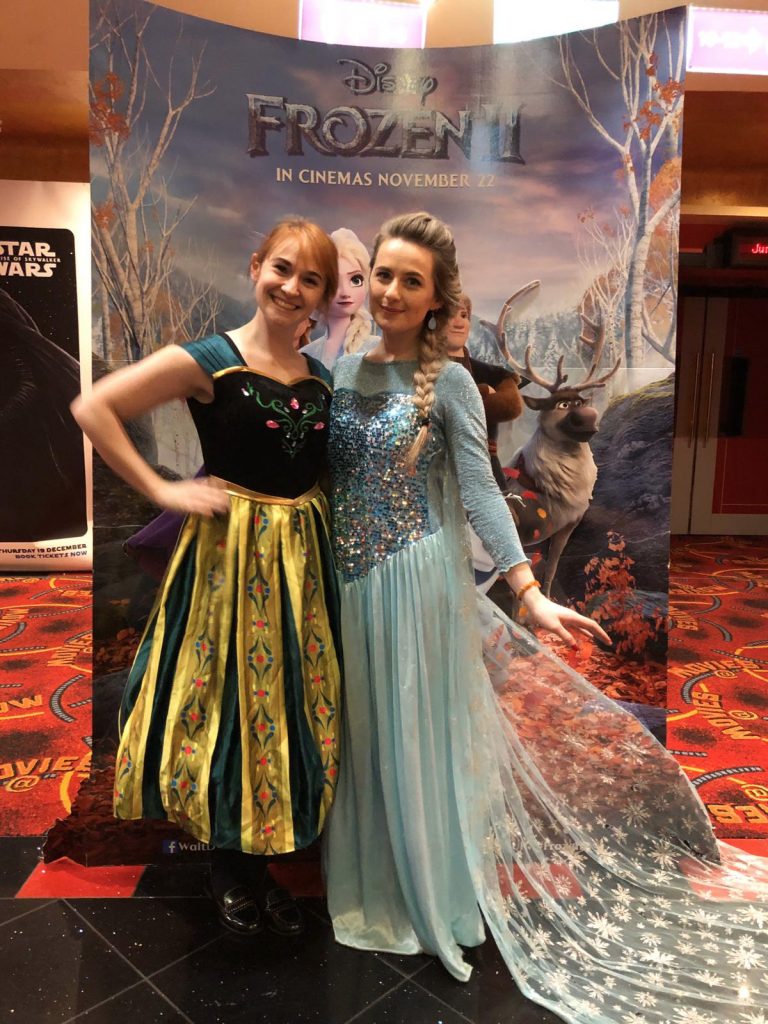 5. Plan Frozen party games
Timeline: 3 weeks before the party
Depending on the entertainment you booked, you may or may not need to plan additional activities.
The good news is that traditional party games are still as popular as they used to be. Just give them a twist to make them Frozen themed.
It's the ideal opportunity to set the party atmosphere.
Here are a few ideas:
Best marshmallow snowman
Build the best (or tallest) snowman out of marshmallows. Then have a race to see which team can eat it the fastest… Silly but definitely a hit.
If you're in a country where it snows you can substitute this for an actual snowman competition.
Pin the tail on Sitron
Sitron is the horse in Frozen (don't worry I had forgotten too). Alternatively, you can pin the nose on Olaf (the snowman… that one I knew).
Make troll bracelets
If you're up for some DIY, why not get all the kids to make friendship bracelets… or rather troll bracelets from the Frozen movie (these guys). Here is an easy tutorial you can follow along with.
Frozen musical statues
A big reason behind Frozen's popularity is the extremely catchy music. So why not play a game of Frozen musical statues. It's easier (and safer) than musical chairs.
Frozen singalong
Similar to musical statues, you can have a Frozen singalong or a singing contest. Definitely record this for the other parents!
Slip and slide
If you're planning the party in Summer and you have a big garden, why not organise a giant slip and slide. You can check out this tutorial to see how.
For some more general party games and activities, you can check out our article on the topic.
Pro-tip: Make sure the activities you plan are appropriate for the number of guests you plan on inviting.
6. Plan the party bags
Timeline: 3 to 4 weeks before the party
Party bags and party favours have become a staple of kid's parties. For an exhaustive list of ideas, you can check our article on what to put inside a kid's party bag.
If you're based in Ireland, you can buy high-quality pre-filled party bags directly through PartyWizz. We'll ship them directly to you for the party.
Note: If you aren't ordering the party bags online, 2 weeks is plenty.
7. Send out the invitations
Timeline: 3 to 4 weeks before the party
Now it's time to craft the invitations and send them out. Ideally, you want to have them sent 3-4 weeks before the party. From experience, we feel that it's the sweet spot.
Designing the invitations
The good news is that because of Frozen's popularity, you'll have no trouble finding themed invitations. You can either buy them ready-made or design them yourself.
If you choose the latter, we recommend using Canva. It's a free drag and drop tool for creating designs. They've got a great selection of pre-made templates you can use for free. In fact, they even have princess ones.
You can also find pre-made Frozen invitations online. Disney themselves provide free Frozen invitations that you can customize and print.
For the wording of the invitation, we've dedicated an entire article on the topic. You'll find multiple examples that you can copy and paste.
Sending the invitations
You can either stick to digital invitations, which is the easiest option or send out physical invitations, which can feel more special.
Regardless of what option you choose, we recommend you stick to digital RSVP's. It will make your life a lot easier.
For small groups, WhatsApp (or any other messaging tool) is fine. For larger groups (10+) you might want to use an online RSVP tool.
8. Make a tentative schedule
Timeline: 2 weeks before the party
It's not a business meeting (far from it) but there are a lot of benefits to having a basic schedule.
Among other things, it'll help you make your shopping list and give you peace of mind on the day (and leading up to the party).
You don't need anything exact. Here is an example:
10:30 – Welcome the guests
11:00 – Frozen entertainer & activities
12:00 – Lunch
12:30 – Cake and presents
13:00 – Free play
13:30 – Parents arrive, and perhaps stay for a cup of coffee
Parties don't need to go on forever, especially for younger kids.
Depending on the duration of the activities, you'll want to adjust the schedule. You might also want to have the activities after lunch. It's entirely up to you.
Note: We've allowed 30 minutes for lunch and 30 minutes for the cake and the presents. We usually feel that's plenty of time.
9. Get helpers
Timeline: 2 weeks before the party
Ask another parent to help out on the day. It's hard to organise anything while also having to keep an eye on the young guests.
This is especially true if you aren't planning on booking any entertainment. They're by no means babysitters but they can keep the kid's attention while you do other stuff.
The downside is that this favour might be a trade…. You might end up doing two parties instead of one. But it's definitely worth it!
10. Plan the decorations
Timeline: 1 or 2 weeks before the party
Now it's time to decorate the house/venue to set the Frozen theme.
At PartyWizz, we usually recommend not going overboard. Instead, focus on having a nice table and a couple of extra decorations (for example balloons and banners) to make the meal as fun as the rest of the party.
The good news is that finding Frozen-themed tableware in the shops should be very easy. If you can't, stick to light blue and white; you won't be far off the mark.
11. Plan the food
Timeline: 5 days before the party
When it comes to food, play to your strength. Make or buy, either is fine.
Are you planning lunch?
The two most common food scenarios are:
– Start the party early afternoon and have cake just before the presents
– Start the party late morning and have lunch and cake.
It's up to you and your preference. For some general party food ideas, you can check out our dedicated article on the topic.
Frozen themed party food
If possible, try to make or buy a few Frozen themed party foods. It'll add to the overall atmosphere. Here are a few ideas:
Olaf noses (carrot sticks)
Ice Jelly (blue jelly)
Hot chocolate
Olaf cupcakes
Ice cream
For some more ideas, you can check out this article by forkly. Of course, if possible, you'll want a birthday cake that matches the Frozen party theme!
Don't forget allergies
Stay away from recipes that use ingredients people are commonly allergic to (for example peanuts). It can be a good idea to check for any allergies when you send out the invitation.
12. Have fun
We hope you have a great Frozen party. You'll notice we refrained from any 'Let it go' references… we know you'll have it stuck in your head before long.
PartyWizz helps parents and party organisers easily book entertainment and key elements of a party online.
We pride ourselves in working with the best entertainers in each category – magicians, face painters, balloon modellers, princess parties, arts and crafts, and more.
If you're based in Ireland and you're interested in hiring a Frozen party, you can place the booking directly through PartyWizz.