Learn how to create a magical birthday bash right in your back garden! Trickery, Tents, and Terrific Treats!
Birthdays are special. Children look forward to eating as much cake as they want, getting spoilt with presents, and being with all their friends to celebrate…
In this article, we'll show you how to make your back garden other-worldly, and transport your kids to another universe for their birthday…
Ready? Let's go!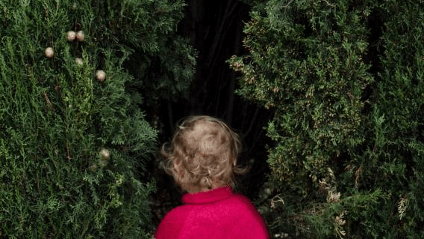 1. Stars Wars Playhouse
First Stop, Stars Wars Universe!
We all know about the Stars Wars galaxy, but who says we can't recreate it right here on earth?
Well, we believe you can! If you have an outdoor playhouse, then why not turn it into Yoda's Swamp?
You can make R2-D2 toys, order a blow-up spaceship and buy all the Star Wars merchandise you can find…there's plenty of it!
To make it even more fantastical, you can also make an obstacle course!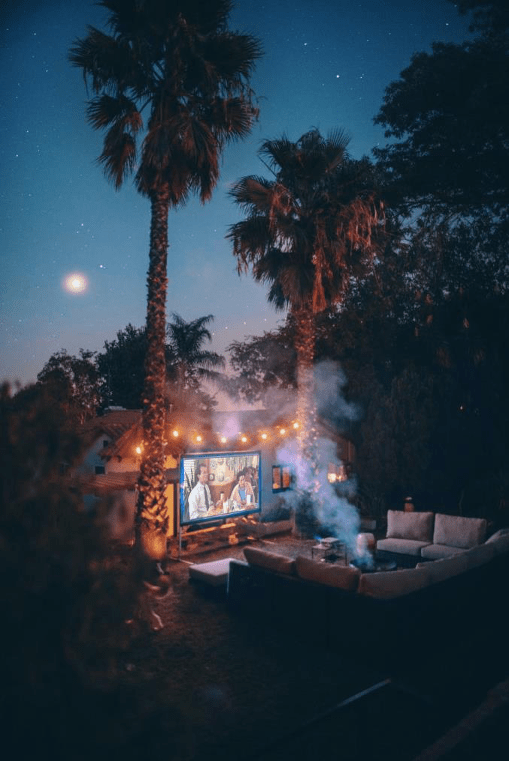 2. Outdoor cinema
Set out an outdoor cinema for the party-goers.
All you need is a projector screen, and the rest is all about the decoration…that's where the magic really happens!
If your child isn't a Star Wars fan then, no problem! There are thousands of other cinematic universes out there…
If you need some ideas to help you with decoration, you can head over to: 11 Outdoor Cinema Party Ideas | Outdoor Movies
3. Book a bouncy castle
Hiring a bouncy castle is a staple of outdoor birthday parties. They're irresistible for kids.
These castles come in all shapes and sizes. From giant pirate ships to elaborate mazes. Different designs cater to different age groups and different settings.
If you're based in Ireland, you can book a bouncy castle directly through the PartyWizz website.
For some tips about hiring a bouncy castle, check out our separate article on the topic. It covers everything you need to know about hiring bouncy castles regardless of the occasion.
4. Book an entertainer
Princess entertainers, Magicians, face painters … Hiring a kid's entertainer is a unique and magical experience for children.
If you're based in Ireland, you can hire a kid's entertainer directly through the PartyWizz website at no extra cost.
If you aren't sure which type of entertainer to hire, check out our separate article on the topic. It has all the tips you'll ever need to help you find the perfect entertainer for your kid's party.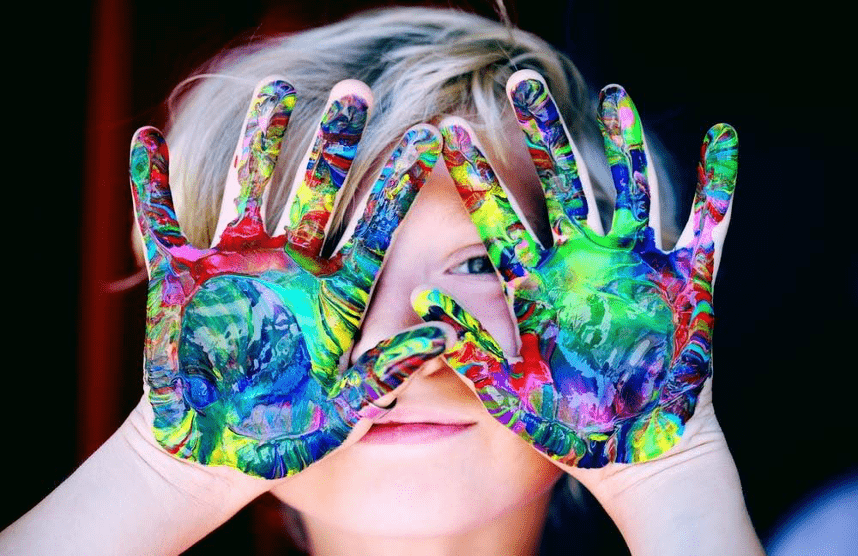 5. Paint Party
Grab Your Paint Brush, Let's Paint!
Painting can get messy. That's why it's best done around lots of open space without the risk of splashing the white couch with a vibrant, red blob of paint…
So, grab the paint, buy some easels, and throw a paint party!
The children will love it. They can get as messy as they want, create anything they desire, and you don't have to worry about the clean-up. Nature will take care of that with a little rain…
Let your child's creativity shine with a spectacular paint party!
6. Messy DIY activities
Similar to hosting a paint party, why not use the opportunity of being outside to do those messy DIY activities you've always wanted to do but never had the opportunity to?
A classic is Slime. You can check out our article on how to make Slime. For some more ideas, you can check out our articles on DIY activities to do with your kids or art and crafts to do with kids.
If you want to be a bit more hands-off, you can also book an entertainer to organise everything for you.
If you're based in Ireland, you can book an arts and crafts entertainer directly through the PartyWizz website.
7. Mini-Golf Magic 
Sports with a Surprise! 
If your child loves to play sport and you want to give them an active, fun party involving some sports…
Then, you can create a mini-golf course in your garden! Making a golf course is fairly easy, and the back garden has the basics, green grass, and lots of space.
So, the first part is already sorted!
If this idea sounds like something you'd like to try, then here's some photos for inspiration: 37 Ridiculously Awesome Things To Do In Your Backyard This Summer (buzzfeed.com)
8. Baseball Blast 
Golf is great, but some children prefer sports with a little more…action (in this case, water bombs!) 
We all know baseball, right? Or at least we've heard of it… Here in Ireland Hurling is more of the thing…
Instead of using normal baseballs, replace them with water balloons! It avoids any accidental injuries to any party guests, and it's A LOT of fun!
Interested in creating a spellbinding surprise with this water balloon baseball blast? Here's how to get it set up: Family Fun: Backyard Water Balloon Baseball – 4 The Love Of Family
9. Football party
Why not host a football party? Another classic of outdoor birthday parties. For your young football fans, it'll be a hit.
It's also very easy to organise. We've broken down everything you need to know in our article about how to throw a football party.
If you want to go the extra mile, you can also book a football party entertainer. They'll teach the kids some new tricks and host different games for them to play. 
If you're based in Ireland, you can book a football entertainer directly through the PartyWizz website.
Alternatively, you might consider going to an indoor football field. This will make the occasion feel even more special. The only downside is that you'll probably need to organise carpools to get there.
Note: Obviously, don't limit yourself to football. At a party, you can play just about any sport.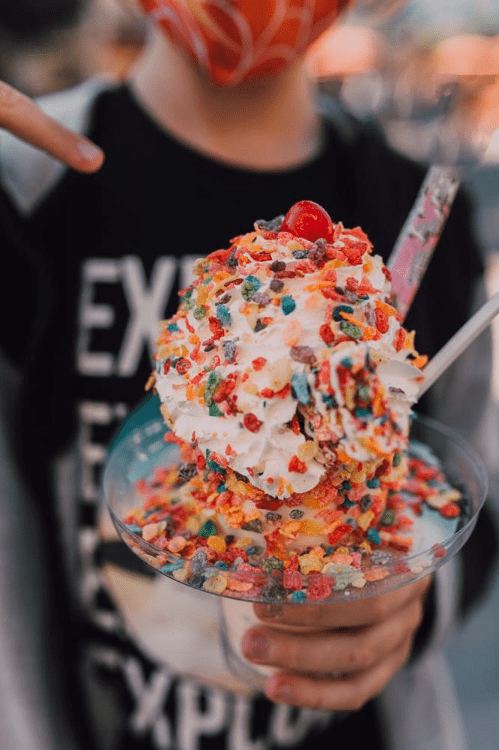 10. Ice Cream Enchantment 
Delicious Delights!
Children love ice cream. Just as the name suggests, it puts them under an almost hypnotic trance of happiness and contentment…so, what's better than an ice cream birthday party? 
The answer, nothing! It's a simple, yet brilliant way to use something they already love while still adding something a little special to their day!
To sprinkle the day with more magic, here are some games to throw into the ice cream party mix: 10 Ice Cream-Themed Party Games (thespruce.com)
11. Scavenger hunt
There is something truly unique to treasure hunts (or scavenger hunts) when you're young. An outdoor birthday party is an ideal opportunity for hosting one!
The beauty of a scavenger hunt is that it can be as simple or elaborate as you want it to be.
You can find a fairly exhaustive list of tips in this article : How To Design the Ultimate Scavenger Hunt for Kids (familyeducation.com).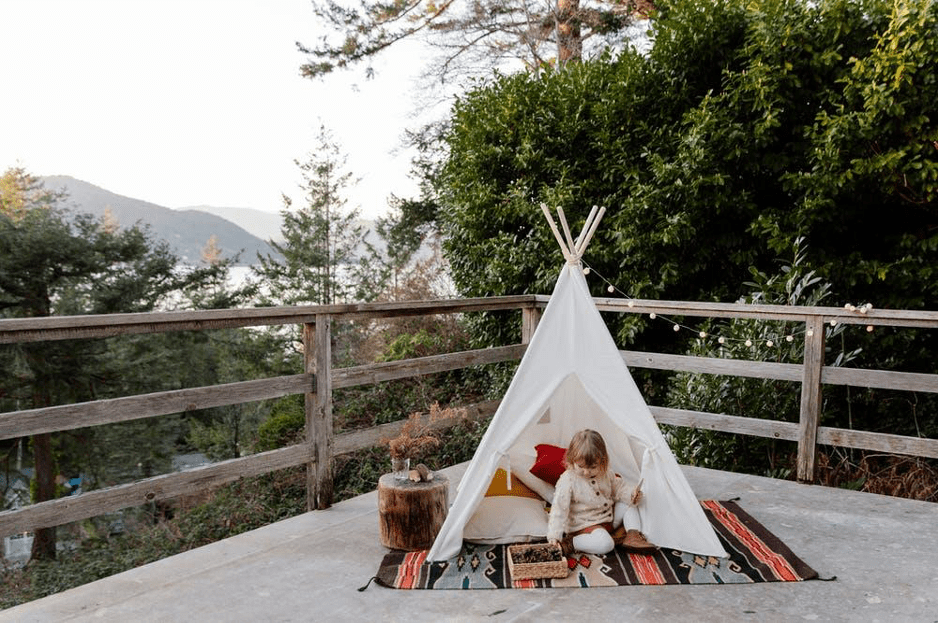 12. Outdoor camping
Organising a camping trip takes a lot of work, and it can be difficult to plan with a group of children… Have you ever thought of turning your garden into a camping site?
With the help of a few friends, you could pull together a few tents, set up a fire, and bring a guitar along for marshmallows and camp songs…
You don't always need a hiking trip to get your children excited by camping, sometimes you just need to be able to use what you have and get innovative about making it different!
A birthday camping trip is perfect and it makes having a sleepover even more exciting! Camping trip suggestions: How to Prep the Ultimate Backyard Camping Party – Prep and Shine
13. Go on an adventure
The secret to a good trick is creating an illusion that captivates your audience…
The same rule applies to birthday parties. It's all about the experience. Don't be afraid to think outside the box!
Why not take them on an underworld adventure and have a mermaid-themed party? Or, take a trip into the jungle and scout for wild animals? Even better, buckle your belts and throw on your hat…the cowboys are coming!
Who says these things can't happen in your back garden? Just like magic, if you believe it, it can happen!
And, don't we all want our children to have some magic in their lives?
Pro-tip: If you're looking for some party theme ideas, check out our A to Z of kid's party themes.
That's a wrap
We hope these tips and tricks will give you some inspiration on how to sprinkle some wonder and amusement for you and your children on their birthday!
At PartyWizz we believe that magic truly does exist, and we offer an array of performers just waiting to help you conjure up a magnificent birthday bash for your children! If you're looking for outdoor entertainment, check out our website.
We pride ourselves in working with the best entertainers in each category – magicians, face painters, balloon modelers, princess parties, arts and crafts, and many more.