Weddings are planned with adults in mind. This makes sense. However, it's a nice touch to organise activities for the kids as well. Otherwise, you can easily end up with 10 or 20 young guests that have nothing to do.
With this in mind, we've listed 10 activities for kids to do during a wedding as well as some planning tips.
Planning kids wedding activities
At weddings, kids tend to get split into two age groups. The younger ones who will spend most of the day with the minders and the older ones who will do some activities with the parents and some activities among themselves.
Before planning anything, make sure you fully establish the 'kids schedule'. Where will each group be throughout the day? And, for the younger ones, who is responsible for looking after them?
Next, you can select your activities.
We recommend having one main activity (for example hiring an entertainer) before dinner, a few simple games that kids can play on their own throughout the day and a simple activity before bedtime (for example a movie).
The real "nightmare", especially for the younger group, is the reception or the cocktail at the start of the wedding. Spending time chatting to friends and relatives sounds fun to adults but for kids… it's pure torment.
Outdoor kid's wedding activities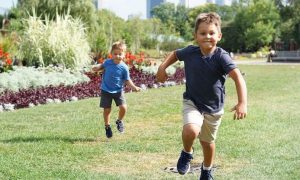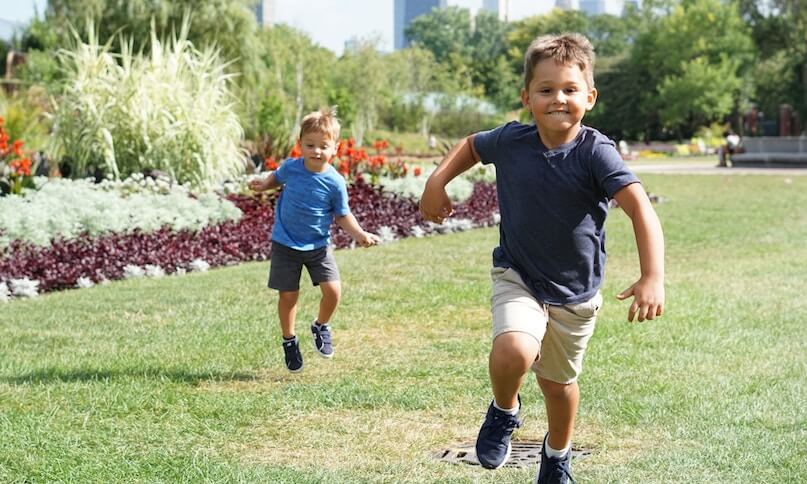 If your wedding venue has an outdoor area, and if the weather permits, planning activities outside can be great fun.
If the cocktail reception is also happening outside, you'll want a separate space for these games. Otherwise, choose games that match the space you're provided (i.e keep windows and wine glasses out of shooting distance).
1. Ball Games
The number of ball games you can organise for the kids is endless. We recommend planning an actual game as opposed to just providing the props. Get the fun started, then the kids will take it from there.
When selecting a game, keep in mind that younger kids tend to prefer group-based games, while older kids generally enjoy sports games more. Again, this all depends on the kids themselves.
If the games involve a lot of running (and potentially rolling around in the grass) let the parents know in advance so that they can plan spare clothes.
Ideas:
Soccer
Ball tag
Hot potato
Crack up
Grass bowling
Pro-tip: we suggest staying away from games that have a single loser, like "Monkey in the middle". These games create unnecessary tensions.
2. Propless Outdoor Games 
A surprising amount of fun games can be played without any props. There are perfect for younger kids.
Again, we recommend planning the game in advance and having an adult kick it off. In fact, the adult might want to play the first few rounds as well…
Ideas:
3. Lawn Games
Lawn games are giant board games that you can set-up outside for your guests to enjoy (think Alice In Wonderland). You can rent these for the day and they're great fun for kids and adults alike.
Ideas:
Jumbo Tic-tac-toe
Giant Connect 4
Giant Jenga
Bean bag toss
Horseshoe
Pro-tip: when choosing a game, keep in mind the duration, the number of players and the age requirement. For example, a giant chess set might look nice on the lawn but it can take over an hour to play and the rules can be complicated for kids.
4. Bouncy Castle
Bouncy castles are a popular choice as they can easily be rented for a day. Just be aware that some of your adult's guests will be dying to try bouncing as well. Choose a castle accordingly… (And take pictures!)
Pro-tip:  keep in mind the noise from the air fan. It might not be huge but it's worth placing the castle slightly further away.
5. Carnival games
Carnival games are ideal for younger kids. However, they do require adult supervision. Consider hiring a minder or an entertainer for the job.
When it comes to planning the actual games, there are 2 main approaches you can choose from:
Have a separate stand with the game(s) and let the kids approach the stand to play.
Plan a series of games (4 or 5 should be plenty) and get the kids to play each in turn.
The best option will depend on the number of kids you have and the amount of space you are provided with.
Ideas:
Bean bag toss
Balloon pop
Rubber Duck race
Apple bobbing
Ring toss
You can find a list of carnival games in this article by Mom Junction. Realistically, the games don't need to be traditional carnival games. Any game that can be framed as a "challenge" will do. Just don't forget to reward the winners with a prize!
Indoor Kid's Wedding Activities
If your wedding is happening indoors, don't worry. There are some great kids' activities you can still do.
6. Plan a kids' corner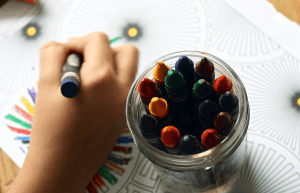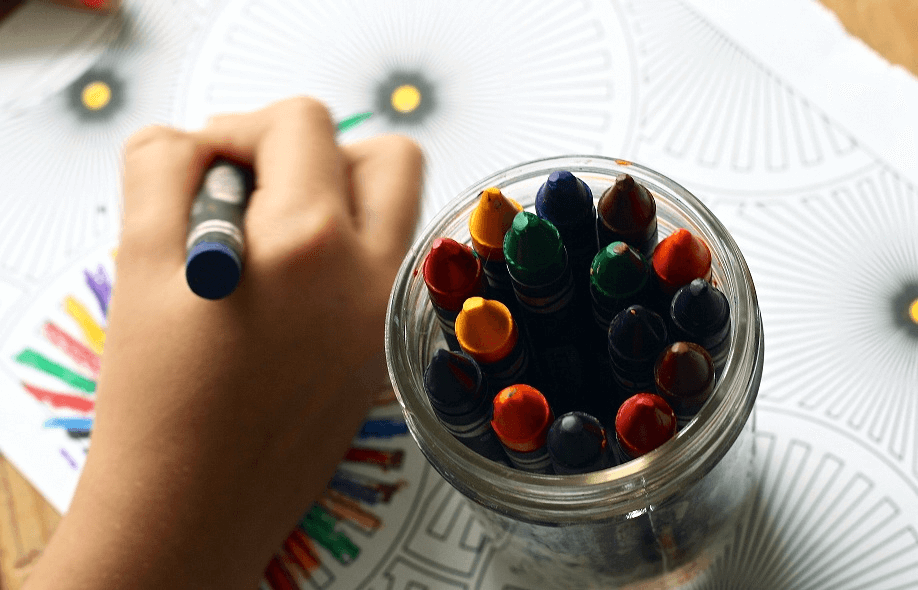 Depending on the layout of the venue, try to plan a small kids' corner with different activities to do. For example, drawing, reading or basic DIY crafts.  Some kids will be happy to have some quiet and relaxing activities to do.
Ideas:
Books
Games
Paper, pens & crayons
Round edge scissors
7. Activity bags
If space doesn't permit the activity corner, or if you want a more personal approach, plan individual activity bags for the kids. These are similar to party bags; just fill them with fun items to keep the kids busy.
Ideas:
Games
Puzzles
Stickers
Drawing
Pro-tip: Be careful not to include any items that are too messy or too noisy. Apply the same rules as when you put together party bags.
8. Hire a Kid's Entertainer
When looking at hiring an entertainer for weddings, we generally have the adults in mind. But you can also book an entertainer to perform for the kids.
There are 3 main show formats you can book:
A formal show where the entertainer performs a 40 minute to 2 hour set; This is a formal show for the kids to enjoy.
A strolling entertainer where the performer strolls among the guests, entertaining kids & families small groups at a time.
An entertainer stand that the kids can approach to see a mini-show.
Ideas:
Party Packages with games
Pro-tip: when selecting an entertainer, make sure you book entertainment that's suitable for the age group. As a rule of thumb, if you have a broad age group, choose an entertainer that does a "family show" instead of a "kids show". It will be less targeted at the youngest members but will appeal to everyone.
9. Traditional Party Games
With a presentation twist, most traditional party games are great for weddings. You can see a few of our favourite party games in this article. Again, consider hiring a minder to supervise the games.
Ideas:
Pin the tail on the donkey
Pass the parcel
Duck duck goose
10. Board games
It sounds easy, but it's often overlooked. Plan 4 or 5 board games and choose a designated space for them to be played.  This is ideal if you have kids that are slightly older.
For medium to large groups, play games like mafia (or werewolves). If you don't have the board game, you can always recreate the essentials with pen and paper.
Ideas:
Snake and ladders
Queens or Chinese checkers
Monopoly
Twister
The game of life
Pro-tip: You can also ask a few kids to bring their favourite game & teach it to the other kids there.
Plan the Small Things
These aren't technically activities, but they will make the kids experience much more enjoyable.
Introduce the different groups
If the kids are from different sides of the family or just don't know each other, make sure you introduce them. Otherwise, they might ignore each other for the entire evening. Help them break the ice to make sure they have a great time.
When making the introduction, it's a good idea to also give them an activity to do. This can be one of the games mentioned previously or just a simple task they could do together.
Designated Tasks 
Kids will generally be happy to help out during the wedding. Especially if it's perceived as fun. For example, you can ask them to find the adults for the photographs. You can also get them to give directions as your guests arrive. You can easily make these activities into games with scoreboards and a prize at the end.
Plan a Place to Sleep
Make sure the kids have a place they can escape to if they want to sleep…. It doesn't have to be anything fancy. A quiet room with a sleeping bag is always welcome, especially if the party is going to be on late. You can use the same space used for the "kids' corner" that you re-purpose after a certain time.
Plan a Movie Area
Not everyone wants to go to bed early. It's a party after all. Planning a movie for the kids might be the perfect solution. It will also help bring the energy down after the exciting day.
Establish the Boundaries
Don't be afraid to establish some boundaries with your younger guests. For example, if you have a picture stand with Polaroid cameras, make sure the kids are aware that they need to leave some refills for the rest of the guests.
Delegate the Planning
Once you have a rough idea of what you want to plan and you've made the bookings (if any), it's time to delegate the planning. If you're the bride or groom, you're going to have more important things to think about. Find someone you're close too and ask them to sort out all the details. They'll be delighted to help.
If you're reading this and you aren't getting married, that means the bride and groom has already delegated the planning. Well done them!
Closing Thoughts
You don't need to have an endless list of activities for the kids to do. Just enough to keep them busy during the reception and towards the end of dinner. Remember, keeping the kids happy will definitely make the adults happy. Everyone will enjoy your special day that bit more.