When it comes to planning your child's birthday party you need to consider a few things: the food, decorations, sending invites, and planning games to keep the kids entertained…
Are you searching for ideas for your children's birthday party? But, you're not sure what games to play and if they will like them?Then, don't worry you've come to the right place! 
This article will give you the ultimate list of party games that are guaranteed to leave a smile on your little one's face and send a group of happy kids home at night.
Every child is different and enjoys different games, so having a full list prepared will make it easier for you to adapt if someone gets upset, or is bored. The secret lies in having more options than you need when party planning!
Classic Games
Let's start with the classic options. These are the games that never fail to bring some fun and keep children entertained.
Plus, most of the guests will already know the rules so you won't need to spend an hour explaining how the game works…
The kids can jump right in and start playing!
Here is a list of classic party games for kids:
If in doubt, you can also read up on the rules before the party just to be sure that you know how to play them.
You don't want to be left clueless when a group of toddlers bombards you with questions about the game!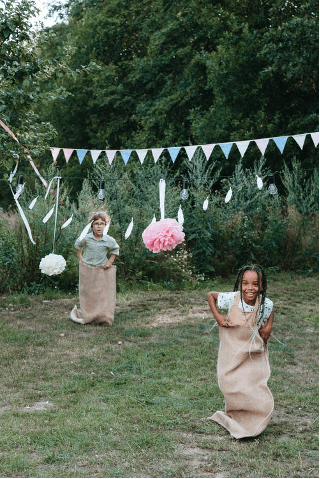 Although, most games listed above do not need any supplies sometimes you want an option that is simple and involves objects that are already lying around the house. In that case, you will want to know about DIY options that do not require any extra money…
For example, Tug of War is perfect for those lively kids that need something active to keep them busy. All you need to play this is a rope and a big enough space. Ideally, you should play this outside but if you do not have the outdoor space, you can play it indoors.
Another great option is Hide and Seek. For this game, you only require a blindfold and enough living space for the children to hide behind. You can also alter this game by having the kids search for an item, or picking a location that they need to find…
No matter how you play this game, it is always a hit at a children's birthday party!
Do you remember Simon Says? This game has been around for a long time, and the best thing about it is that you do not need any props. A room full of kids is all that is needed. You can play it at anytime, anywhere.
A few other party games that you can do low budget are:
All of these games can be used with any age group, and only require space and minimal props. It is ideal for moments when you need something to fill the time. For instance, before the cake comes out, when dinner is being prepared, or just after opening the presents.
However, as the world is still experiencing a global pandemic there are some safety concerns amongst parents, and anxious children who might not want to socialise closely but still want to attend a birthday party.
Therefore, it is a good idea to have some socially distanced games ready…
Pandemic Friendly Games
As birthday parties are social gatherings that involve a group of people, there is a chance that some guests may not be comfortable mixing with other household bubbles. This can be tricky when your child wants their friends around them for their special day.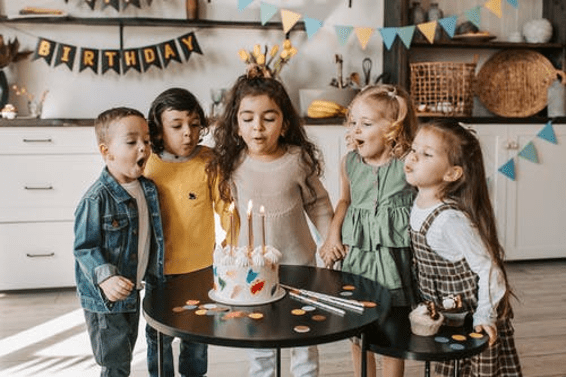 But, why not make the birthday party pandemic friendly? Just because there is a lot of uncertainty in the world, that doesn't mean that your kids can't enjoy their birthdays!
In fact, it is even more reason to celebrate.
So, what are some socially distanced party games for kids?
You can find more pandemic friendly games here that you can use for your party.
If in doubt, you can always consider virtual parties where you can book an entertainer online. As well as this, you can take extra precautions with sanitisers and fun birthday facemasks if you want to make people feel more comfortable.
Thankfully, entertainment can be made easy when you find the right company. PartyWizz has over 30 entertainers specialised in children's parties and creating magical moments!
The most important thing is that your child and their guests have a brilliant time. To help you make sure that everything goes smoothly, you should use a checklist to ensure all the aspects of party planning are covered…
The best way to do this is to split up the tasks into different sections. For example, table and serving, food, decorations, games, and other. That way, you can be sure that you won't miss anything!
Entertainment for Everyone
Even though you are planning your children's birthday party, that doesn't mean that you can't have a little fun at the event. Party games for kids are just as much fun for you as it is for them!
So, throw on a party hat, and reminisce about your childhood with some classic party games like musical chairs, or a sack race. Alternatively, you can use a rope lying around your house and have an energetic game of tug of war.
If those options don't work, and you would like socially distanced options, then why not play charades? Or, twenty questions?
There is an option for everyone when it comes to picking the right party games for your child's birthday party.
Hopefully, you'll be able to find one you like after reading this article! 
That's a wrap
PartyWizz helps parents and party organisers easily book entertainment and key elements of a party online.
We pride ourselves in working with the best entertainers in each category – magicians, face painters, balloon modelers, princess parties, arts and crafts, and many more.
If you're based in Ireland and you're interested in hiring a kid's entertainer you can place the booking directly through PartyWizz