Hiring a great DJ can be tricky.
So last year's family reunion was soured by Uncle Carl's terrible playlist of not so golden oldies?
Or your niece's wedding turned awkward when the newly single DJ kept playing Skrillex?
Maybe you hired a rave DJ for a kid's party…
Whatever the issue may or may not have been we've got you covered on how to hire a great DJ regardless of event or crowd.
1. Choosing a DJ Style
The DJ needs to suit the event you're hiring them for.
Who is the audience?
If you are looking for a DJ for a wedding you wouldn't want to hire a DJ that regularly plays at Daves (Day Raves). They would likely be lost and woefully under-prepared for the influx of requests for The Chainsmokers.
Make sure you choose a DJ who makes their business in the specific event you are holding.
Wedding DJs will usually perfect their set for Weddings only, and likewise with Corporate DJs and DJs that work at private parties.
The more comfortable your DJ is with the style of the event the better they will likely be!
What is your budget?
DJs are available at different price points depending on what services you need.
When you book a DJ, you pay for the performance but you also pay for transport and the equipment set-up time.
If you've never booked a DJ before, scope out your area to get an understanding of what the price range is. For example, here in Ireland, prices range from €300 all the way to €1000+
If you're based in Ireland, on PartyWizz you can see the prices for the different singers and DJs directly on their profiles.
What genre of music do you want?
Remember when your niece's wedding was ruined because the song that reminded her of her Ex played eight times? A situation like this can be avoided by communicating with the DJ on their set list.
Speak to the DJ ahead of time to make sure they can cater to the type of music you want to listen to.
It's the more about the genre than the individual song.
However, it's perfectly acceptable to request a number of songs that you would like to hear, or more pressingly, not hear. Make sure the DJ understands your request and has no problem accommodating you.
2. Establish What You Expect of the DJ
You need to make sure the DJ you hire can meet your needs.
What services do you require?
Do you want the DJ to show up and play a set or do you expect them to provide their equipment?
Dance music
This is the obvious one.
Party Lights
Do you want the DJ to provide party lights for the event? Remember: lights require a scaffolding. Make sure you have the required space.
Ambient music
Do you want the DJ to play background music during dinner or the reception?
Amplifiers
Make sure the DJ has the right amplifiers for your party size. Too quiet is no good.
You also want to make sure that their equipment fits in with the venue (electricity, echoes, security exits…). If they're professionals they will know.
When do you want the DJ to play?
Clearly outline in your event plan, when you want the music to start and when you want the music to end. If you have speeches or other stage activities, make sure you fit them in the planning too.
Making this schedule will help you hire a DJ that meets your event needs.
If you have special requirements (for example if you want 2 x 1h sets) it's worth chatting with the DJ directly about it. Some can be more flexible than others.
3. Vetting the Quality of the DJ
You wouldn't get a tattoo without looking at the artists work and seeing if it lines up with your tastes, would you? No, of course, you wouldn't, and that is why, unlike me, you don't have a lot of silly tattoos. Or maybe you do and you have, unlike me, learned your lesson. Be better than me, do your research.
When you're doing your research remember that not all DJs are created equal. You need to make sure they have the skills and the equipment required for your event.
To vet the quality of a DJ we recommend you take the following steps:
Try to See Them Live
Ultimately, the best way to vet the quality of the entertainment is to see them first hand. This isn't always possible but if it is, don't miss the opportunity.
Find Pictures & Videos of the DJ
If you're unable to see them live, this is the second-best option. Check out their website for pictures and reviews.
At PartyWizz, you can view pictures and videos on the profiles of the individual DJs and entertainers.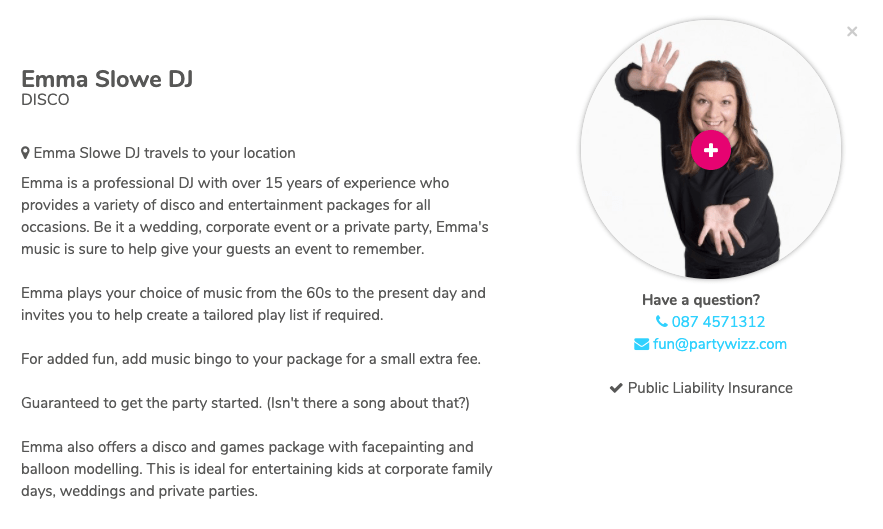 Ask the DJ for a sample of their work
Ask the DJ for a sample of their work. They will often have promotional videos of their set so you can see if you like their style. Is the wedding DJ able to get people up and dance? Is the DJ at the retirement home able to get people to party like its 1940? All relevant questions you need to ask yourself when vetting your DJ.
What playlist you will be looking for will be determined by your own personal taste and the type of event.
Read Testimonials & Reviews
Find third-party reviews and testimonials. On PartyWizz, you can view reviews for all the entertainers on their individual profile.

If you aren't based in Ireland, search for reviews locally. You can always find reviews on Google and Facebook. Just keep in mind that these can be manipulated. Take the time to read through to make sure they are authentic.
Check for Referrals
If someone you know and whose opinion you trust recommends the DJ to you, that's ideal. Again, it's not always possible.
Check if the DJ is Part of a Vetting System
Check if there are any vetting systems for the DJ. For example, at PartyWizz, all of our entertainers are hand-picked to make sure we only work with the best.
4. Getting A Quote from the DJ
A phone call is usually the quickest way to get an answer. Second is email and last is contact forms… you never know if the information goes anywhere.
Ideally, you want to contact the DJ during normal working hours… they are less likely to be at gigs.
Depending on the DJ, you might land on a booking agent or a DJ representative. As long as they know all the answer, it should be fine.
If you're based in Ireland, you can book a DJ directly through PartyWizz with no booking fees
5. Noise Considerations
We've all attended parties that ended prematurely because the neighbours couldn't stand the noise. You don't want this to happen at your event.
This is especially important to consider if the DJ will be performing outside or partially outside.
Check Local Legislation
If your event is in a professional venue, they should know how to handle the noise. They will most likely have recommendations and guidelines for you to follow. Just reach out to the venue and ask.
It gets trickier when there is no one to give you advice. You'll need to check your local legislation directly.
If you're based in Ireland, you can check the citizen's information page to get some information. Additionally, you'll want to get in contact with the local town hall to ask them about noise restrictions.
Check if the Venue has a Noise Limiter
Some venues have a sound limiter or noise limiter. In fact, it's a legal requirement in some countries. These devices will cut the power if the music or the noise gets too loud.
DJs can usually reach up to 100 dB when playing. However, if the venue has a sound limiter set 85 dB and 95 dB they can usually accommodate for it. Definitely check with the DJ directly for his.
6. Get A Contract
A DJ should operate under a contract agreed on by both parties (pun intended) and you should make sure to get one. This protects both parties (pun intended again) from any monetary or legal misunderstanding.
At PartyWizz, we provide a general agreement between the booker and the performer. When confirming the booking, both parties agree to these terms and conditions.
7. Get In Contact Before The Show
We always recommend getting in touch with the entertainer a few days before the event. In fact, they might be the one to call you. This call will help you make sure you both (still) agree on the event details.
8. Have a back-up plan
Unfortunately, we're at the mercy of unforeseeable circumstances. Although you most likely won't need your backup plan, it's always prudent to have one. In particular, as the DJ is central to the event.
For example, check with the venue if they have a spare amp and be ready to plug in your playlist if the DJ's car breaks down. Keep it simple and keep the fun going.
When making the reservation, it's also worth checking with the entertainer if he or she provides a back-up plan. If they can't make the event, do they offer a full refund? Make sure this is also stated in the contract.
That's a Wrap
A DJ can make or break a party and that is why it's important to hire tactically. Hopefully, these tips can help you make the right choice and make your party one to remember.
For some additional tips about hiring entertainers in general, check out our kids, weddings and corporate articles.
At PartyWizz, we specialise in providing entertainment for events including DJ's. We pride ourselves in working only with the best entertainers in each category.