In recent years, Magic, as a form of entertainment, has grown in popularity. This is largely due to television broadcasting some amazing magic specials as well as the resurgence of TV talent shows.
However, the practice itself and the various genres of magic are still not very well understood. In this article, we will introduce the different aspects of this art form and explain what it's like to be a professional magician.
What is a magician?
Magician Definition
When speaking of magic as entertainment, a magician is an entertainer who demonstrates skills of seemingly impossible feats. For example, a levitation, vanish or teleportation.
The term magician is used interchangeably for men and women. There are no gender-specific terms in English.
This definition defers to fiction where a magician refers to someone with magical powers. They are often featured in games, books, movies and more.
In fiction, a wizard usually refers to a male magician, while a witch usually refers to a female magician. However, the term "witch" is gender-neutral and can be used to describe both men and women.
What does Magician mean?
The word "magic" comes from ancient Greek and it was used to describe the rituals performed by Persian priests.
In the late 14th century, the term was redefined as meaning: " the art of influencing or predicting events and producing marvels using hidden natural forces".
This term was adopted in the French language and, in turn, the English language adopted the French word.
Only in the 19th century did the meaning shift towards describing feats that are accomplished using optical illusions, sleight of hand and misdirection.
What is the history of magic?
The history of magic goes a long long way back! For the first few millennia, magic is mostly associated with the occult and the pseudo-demonstration of paranormal feats. In fact, magic as entertainment is almost non-existent.
Historians consider the tribal shamans as being the first magicians. They would demonstrate "apparent" feats of magic and act as the healers for their tribe.
One of the earliest written recordings of a magician comes from Ancient Egypt. His name was "Dedi" and the recording dates back to 2700 BC. Whether this magician was real or simply fictional is still unknown.
In Europe, magicians as entertainers make their appearance in the Middle Ages. They entertained people at fairs and in circuses.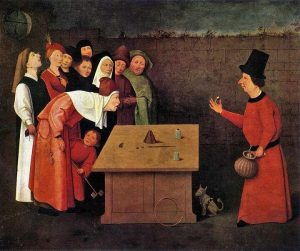 The Conjurer by Early Netherlandish
At the time, the fear of witchcraft was at an all-time high. For that reason, tricks were often presented as gambling routines rather than "magic" (If you were condemned as being a "witch", your career would end prematurely…).
In fact, magic will continue to be linked to spiritualism and witchcraft until the 1700.
In the 19th century, magic begins its social ascension and starts to be performed in theatres. This is in large parts due to Robert Houdin (1805 – 1871) in France. He is known as the "father of modern magic".
He was a pioneer in making magic "elegant"; tailoring his show to be suitable for the French aristocracy. The image of a magician with a long tailcoat and a top hat comes from this area.
Just a few decades later, he will inspire Harry Houdini (1874 – 1926), in the United States. Houdini's escape stunts will make him an international phenomenon. One of his most famous performance pieces was the straight jacket escape.
The style of magic as we know it today started in the 20th century. With the appearance of TV, magic was for the first time broadcast to a much larger audience.
In 1902, the Society of American Magicians (S.A.M) was founded. It's the oldest magician's society in the world.
3 years later, in 1905, the prestigious Magic Circle was founded. It's an English organisation dedicated to promoting and advancing the art of magic. In 1939, it's sister society, the Society of Irish Magicians (S.I.M), was founded in Ireland.
What does a magician do?
Magicians entertain audiences for a living. This might be on TV, in a theatre or for private events. Magic is a very versatile form of entertainment and it can be performed in a large variety of settings.  However, most shows can be broken down into these 4 main categories:
1. Stage shows
As implied by its name, stage magic is designed to be performed on stage for a large audience. This can be for a hundred people or for an entire stadium.
Here is a selfie of the Ehrlich brothers (AKA the "rock stars of magic") from their 2019 show in Wembley area (UK)
View this post on Instagram
2. Parlour magic
Parlour magic is a formal show done for an intimate number of people. It's also known as platform magic or cabaret magic. Most professional magicians tend to perform parlour shows as they are flexible and have simpler logistics than stage shows.
Here is a short video of magician Pop Haydn performing at the famous Magic Castle in Los Angeles.
3. Close up magic
For close up magic, instead of being on stage, the magician performs to small groups at a time. This is also known as strolling magic, walk around magic or mix and mingle magic.
Most professional magicians will also perform close up magic. It's a flexible format and is a chance for everyone to see magic up close.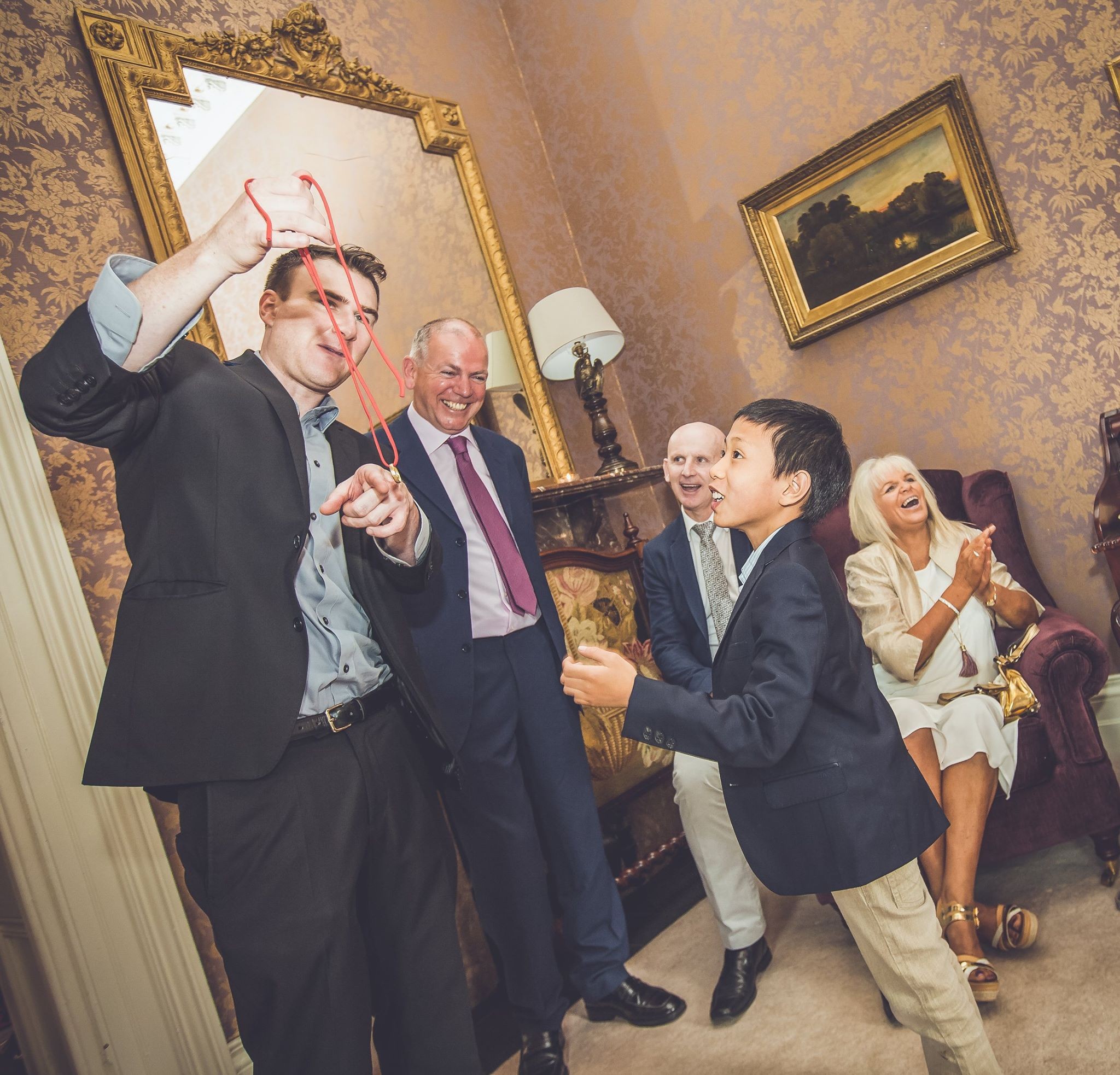 PartyWizz magician Rob Hackett performing close up magic
4. "Stand" shows
Instead of having a stage or walking around, the magician can perform at a fixed stand, table or in a separate room. The difference is that people approach the magician to see a "mini-show" rather than the opposite. This format is very common at festivals and trade shows.
At what events do magicians perform?
Magicians can be booked to perform any of the previous formats at events. Some of the most common events to hire magicians are:
Corporate events
A company will hire a magician to entertain its employees, guests or customers. These corporate events can incentive trips, Christmas parties, team-building events and more.
Promotional Events
A magician can also be hired to promote a company. Technically this is also a corporate event… However, in this case, the magician's job is to attract potential customers. For example, a magician can perform at a trade show to build a crowd.
Weddings
Magicians can be hired to perform at weddings. The entertainer usually performs for people at the reception, between courses during the meal and after dinner. Of course, this will depend on the individual entertainer.
Communions, Christenings & Bar Mitzvahs
Family gatherings are the perfect opportunity for a magic show. For that reason, magicians regularly perform at events like Bar Mitzvahs, christenings and first communions.
Kid Parties
Magicians can be hired to perform at birthdays and any other kind of kid's parties. This is a unique branch of magic. See the section below for more information about kid's magic!
Anniversaries & Birthdays
Children aren't the only ones entertained by magic. Magicians can be hired to perform at private parties for adults too. These might be wedding anniversaries, birthday parties or retirement parties… In fact, most private events are adapted to host a magician.
Bachelor Parties & Hen Parties
Magicians can be hired to entertain at bachelor parties and hen parties. This is a fun event to add to a pub crawl or any similar activity. These differ from "traditional" private parties as they aren't done at home.  However, most venues will accommodate an entertainer.
What are the different forms of magic?
There are different genres of magic that a performer can choose to specialise in. These different areas of magic aren't always clear cut. Many magicians perform magic from multiple categories.
However, here is a breakdown of the most prominent categories:
Illusions
Technically speaking, all magic is illusion. However, traditionally illusions, or "grand illusions", refer to large scale magic effects. These might involve animals, boxes, fire and more. A classic example is sawing a lady in half.
The most famous illusionist of all time is David Copperfield
The difference between a magician and an illusionist comes down to what they specialise in. Both are "magic entertainers" but their shows will be very different.
Illusionists specialise in large-scale stage productions while magicians focus on (physically) smaller and often more intimate forms of entertainment.
The logistics of a magic show and an illusion show are also completely different. If you need a large stage for your show, you are more likely to brand yourself as an illusionist. This helps theatres and booking agents differentiate the two.
Stage Magic
Magic is at home on stage. Even with minimal props, magic can be performed for a very large audience.
Here is a video of the legendary Paul Daniels performing magic on stage with almost no props.
Mentalism
Mentalism refers to magic tricks that use the mind. It's a modern take on "mind reading". During the show, the entertainer will (apparently) read minds, predict future outcomes and demonstrate intuitive abilities.
While it's most commonly presented on stage, mentalism can also be done close up. This form of entertainment was made popular by Derren Brown in the UK.
Street magic
Street magic was made popular by David Blaine in the US and Dynamo in the UK. The magician performs to random people on the street or in a bar. The focus is on the genuine and candid reaction of the audience. Street magic is often shown on TV for this reason.
Strange & Bizarre magic
Part storytelling, part magic, this form of entertainment combines magic with popular folklore. Throughout the show, the performer will often imitate or emulate stories and superstitions. A famous performer of bizarre magic was Eugene Burger:
Shock magic
Shock magic is often apparent to stunts of an impossible feat. Warning: these tend to be gruesome in nature! For example: swallowing a razor blade.
World renowned magician Chris Angel grew to fame on this genre of magic. He now headlines an illusion show in Las Vegas (don't watch the video if you are squeamish).
Comedy magic
Magic and stand-up comedy blend themselves perfectly together. Depending on the performer, the magic might be de-emphasised in favour of a joke.
Here is a clip of an English comedy magician Wayne Dobson:
Kids magic
A magic show designed to entertain kids. The focus is often less on the "secret" of the trick and more on comedy and audience (kids) participation. A children's magic show most often takes the form of a parlour show but it can also be performed in a walk around type of situation.
How to become a magician?
Becoming a magician requires years of practice and dedication. However, it's accessible to everyone. PartyWizz recommends contacting your local magical society:
Most of these associations also have junior meetings for members under the age of 18.