If you're in charge of planning the entertainment for your next company event, you'll know that there is a lot to do! Fortunately, hiring a corporate entertainer doesn't have to be difficult or time-consuming.
In this article, we've listed advice to help you hire the best possible entertainer for your next corporate event. We've broken down the process into 11 steps:
These steps cover everything you need to know. Depending on the type of corporate event you're hosting, some sections will be more important than others.
1. Who Is The Audience?
Corporate events come in all shape and sizes. A key criteria for choosing a great corporate entertainer is understanding who the audience is.
Most corporate audiences can be grouped into the following three categories:
Employees
An entertainer can be hired specifically to entertain your company's employees.
For example, you can book a singer to perform after dinner show or a band to perform during a drink reception.
Keep in mind that events designed for a subset of the company's employees (such as teams) will naturally be smaller and the attendees will generally have closer ties.
Pro-tip: Internal events are a great opportunity for internal jokes & stories. If this is something you plan on doing, choose an entertainer that can weave this into their show.
Families
Events hosted for families and/or kids are generally social and relaxed occasions (although the kids might not be!).
Before hiring an entertainer, establish who you want to entertain: the kids, the parents or both. This will naturally dictate who you hire.
For example, singers or magicians will perform for everyone, regardless of age. Conversely, a face painter or a balloon modeller is better suited for just kids.
Decide who to target with the entertainment and plan accordingly.
External facing events
Events, where the external stakeholders (customers, business partners, suppliers…) are guests, tend to be high pressure.
When hiring an entertainer, make sure they fit in with the overall atmosphere of the event. A comedian that roasts your key customers might not be what you had in mind.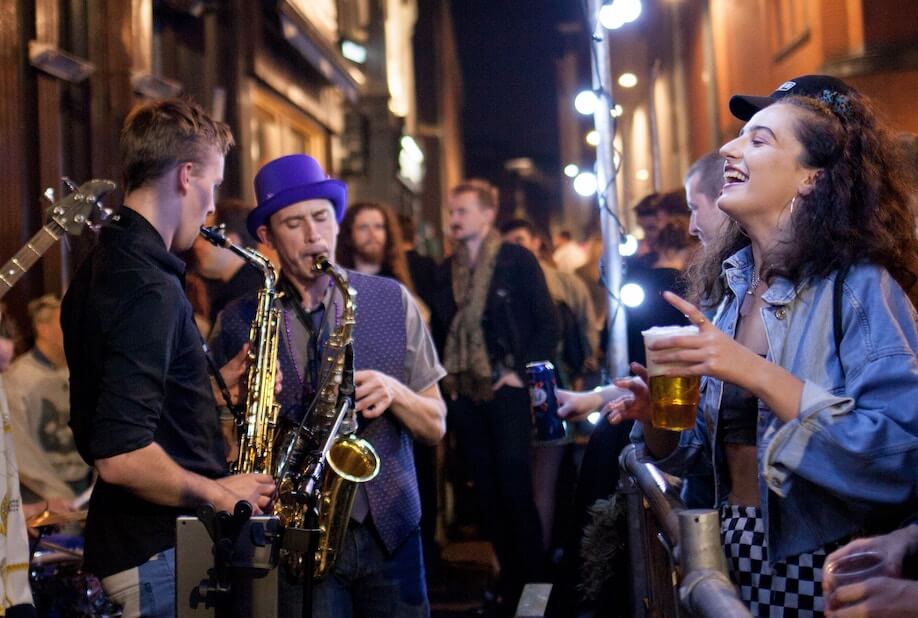 2. What Entertainment Format Do You Want?
What type of entertainment do you want for your event? Is it something that guests can choose to take part in, like a photo booth? Or is it a show that involves everyone, like a singer?
There are three main types of shows, each will create a different atmosphere:
Stage shows
This is a formal show done, on stage, for all your guests to see. For example, a cover band. These can last anywhere from 30 min to several hours. It all depends on what you want.
This is ideal if you want the entertainment to be central to your event. For example, it's perfect for after-dinner entertainment.
Walk Around
The entertainer will walk among your guests, entertaining small groups at a time. For example, close-up magicians.
This format is ideal if you want all your guests to experience the entertainment but you don't want it to be as central. For example, it's an ideal format for receptions.
Pro Tip: If you're hiring walk around entertainers, schedule their performance so that it isn't at the same time as loud music, announcements or speeches. Your guests will appreciate it much more.
An Entertainer Booth or Stand
For this format of entertainment, the entertainer holds a booth or a stand that people come up to. For example, caricaturists often hold a static stand.
This is ideal if you're looking for a more casual form of entertainment. Your guests can choose to take part in it or not.
3. Is The Entertainer In line With The Objective Of The Event?
Corporate events are hosted to help companies achieve a specific objective. The objective depends entirely on the type of corporate event you host.
This will influence the atmosphere of the party and therefore the type of entertainer you'll be looking for.
We've grouped these objectives into five broad categories:
Commercial Events
The objective of commercial events is to attract new customers (or potential customers) and to build new relationships.
The entertainer you select should facilitate this process. For example, if you want to build a crowd at a trade show, you can hire a magician for the event.
If you want to keep your guests happy while they wait in line, you could hire a balloon modeller or a juggler.
Establish how the entertainer can help and choose accordingly.
Appreciation Events & Incentive trips
These events are for celebrating success and for showing appreciation.
Entertainers are perfect for adding an extra touch of fun, atmosphere and/or prestige. In fact, performers are a staple of these events.
They can be hired for atmosphere (i.e just people who want to watch). For example, fire eaters, jugglers or stilt walkers. Or they can be hired as key entertainment for the evening. For example, a singer, a band or a comedian.
Education, Training & Learning Events
These events are designed to help the guests learn new skills and acquire new information.
For these events, the line between entertainers and speakers can be blurred. In fact, the more entertaining every speaker is the better the overall event.
The entertainer can be hired to facilitate this process. For example, a motivational speaker, or team-building exercise. Alternatively, a performer can be hired just to entertain. This can be at the end of the day or between sessions.
Pro Tip: If you have multiple speakers at your event, you can also book an entertainer to compère. For example, a magician can perform a trick before introducing the next speaker on stage.
Social Events
These events are most often organised just for the employees. They're an opportunity to relax and develop relationships.
If all the members present know each other well, a more personal form of entertainment might work best. For example, you can hire a bingo entertainer and include insider questions. in the game
Company Celebrations
These events are similar to social events. However, external stakeholders are often invited. This means the entertainment should be impersonal.
Remember: even if your company is close to its key stakeholders, they probably still won't get the internal jokes/banter.
4. When Do You Want The Entertainer To Perform?
During your event, when do you want the entertainer to perform? This will depend entirely on the type and duration of your event.
The most common times to perform at corporate events are:
Lunch
Lunchtime events are often done midweek over an extended lunch break. Entertainers can be hired to drop in specifically for that hour (as a surprise?).
For example, at Christmas time, Santa can be hired to drop by your office with gifts. Or you can also hire a caricaturist to do some funny drawings.
Just keep in mind the performance time required by the entertainer. If the event only lasts an hour, book an entertainment type that fits within that time frame. No one wants a rushed show.
Afternoon
If you're hosting an event that lasts multiple hours, where people come and go, make sure the guests are aware of the entertainment schedule. Otherwise, they might miss the shows.
We recommend hiring multiple entertainers to perform throughout the afternoon. For example, face painters can be hired to entertain the kids, followed by a magician later on in the day.
By spreading the entertainment throughout the day, you increase the chances that everyone gets to see something.
Drink Receptions
The entertainer can perform for your guests during the drinks reception. They can help break the ice and start the event with some fun.
Unless you have a sharp start time, most people tend to arrive at different times during the drinks reception. For that reason, we recommend a form of entertainment that people can easily join in halfway through. For example, a magician doing walk-around magic.
Alternatively, consider booking entertainers to set the tone of the event. For example, a music band or fire eaters. They can perform in the background, setting the tone of the event.
Dinner
You can also hire an entertainer to perform during dinner. For example, you can have a band play in the background, or you can have a magician perform at the tables between dishes.
After Dinner
Another option is to have the entertainer perform after dinner. Of course, musicians and DJs are often booked to animate the dance floor. But this format doesn't apply just to music. You can also book a comedian or magician to do a formal show.
5. Does The Entertainer Fit In With The Venue?
Your venue will impact a lot of your choices. While most forms of entertainment are flexible, it's important to consider the space you have.
Performance Space
Depending on the entertainer and the format of the show, they will need different amounts of space. Some performers might require a stage while others just need a table.
Get in contact with the performer as this is specific to each entertainer.
Set-Up Time
Before booking an entertainer, consider how their set-up time will fit in with the flow of the evening. Does the entertainer need set-up time? Do they need a dedicated space to set up?
If they arrive during the evening, will they be able to set up their act without getting in the way of your guests?
If the entertainer arrives earlier, can the venue give them the required set up time? Every venue is different. Don't be afraid to ask how early the entertainer can arrive.
Acoustics
This mostly applies to DJs & musicians.
Most modern rooms have good acoustics, but it's worth checking that the amplifying equipment the entertainer uses is suitable for the room. This might influence the band or musician you choose.
Noise Restriction
In addition, check if the venue has any noise restrictions (such as a sound limiter). Depending on where you live this might be a legal requirement.
If you aren't sure, ask the venue, the entertainer or check with your local authority. Ideally, this process should be done when booking the venue!
Electricity Requirements
If the entertainer brings equipment that requires electricity, make sure the venue can accommodate the set-up. In most cases, you won't have any problems, but a non-standard set-up can be a fire hazard.
Pro-tip: If the entertainer only needs an amplifier to speak, they can usually work from battery packs.
Specific venue requirements
Some venues have very strict rules about fire, animals and so on. If you're hiring a variety entertainer, make sure it doesn't clash with the venue's policies. Again, we recommend getting in contact with the venue beforehand to clarify these points.
Depending on where you live, it's also important to check your local laws. This is especially important for fire! The venue will most likely know but if you're unsure, check your local legislation.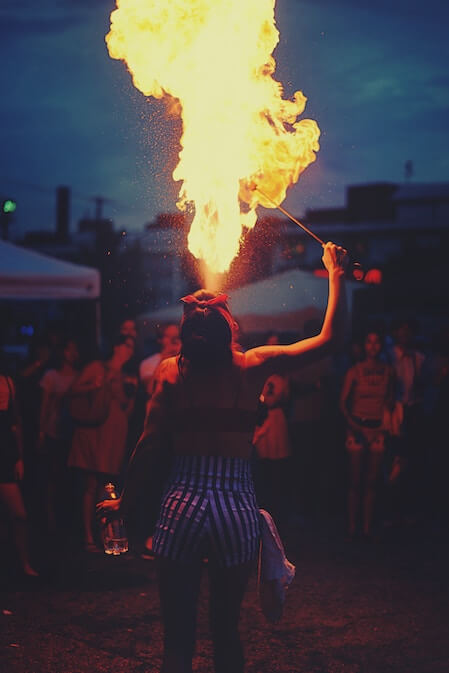 6. Vetting The Quality Of The Entertainment
When hiring a corporate entertainer, you want to make sure he or she is excellent at what they do. Unfortunately, this is often easier said than done.
However, here are a few tips to help you decide:
Try to see them in action
The best-case scenario is to see them perform live before the event. That way, you'll know exactly what they can deliver. However, this isn't always possible.
The second-best option is to look at videos and pictures of them online. Most entertainment websites will have some form of digital gallery that you can look at.
If you're hiring an entertainer through PartyWizz, you'll find pictures and videos on the profiles of each of the individual entertainers.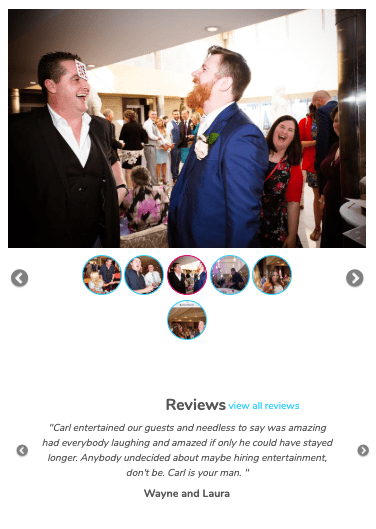 Check for Third-Party Reviews
Before booking an entertainer, it's a good idea to check for third-party reviews.
If you're hiring an entertainer through a platform like PartyWizz, you will find reviews on the profiles of each of the individual entertainers (as you can see in the previous picture).
If PartyWizz isn't available in your area, check for reviews on social media, Google and other review platforms.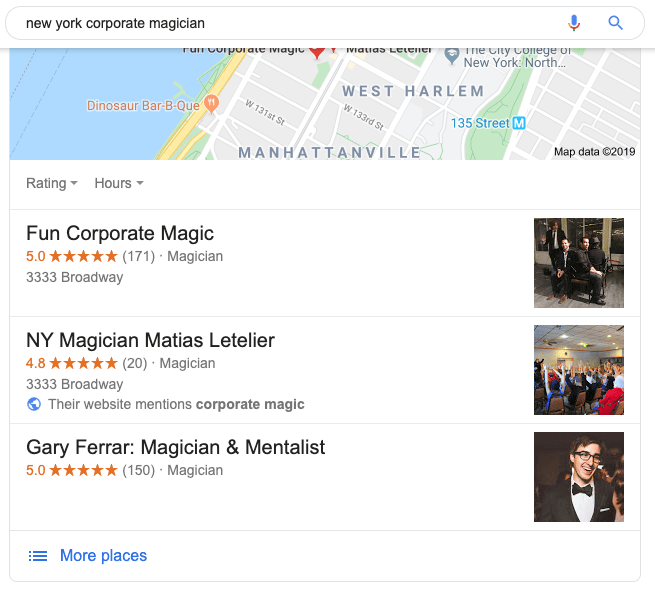 Unfortunately, always keep in mind that public reviews can be faked. It's always worth reading the comments and making sure the reviews are authentic.
7. What's Included In The Entertainer's Fee?
Before making your reservation, take the time to understand what's included in the entertainer's fee. Entertainers, generally offer different show packages that contain different features.
Take the time to understand which one suits you best. Here are a few questions to ask:
How long will the entertainer be there?
What is the show format?
How long will the show last?
Are travelling costs included?
Do they have any special requirements?
Do you have any special requests for the entertainer? For example, can they brand the entertainment with your company's logo or theme their patter with a specific message?
Are there any additional/hidden charges?
Do they have public liability insurance?
When making a booking on the PartyWizz website, the total price is automatically calculated based on factors such as location and duration. There are no hidden fees.
8. Is The Entertainer Available?
It sounds obvious, but don't let this one slide. Once you've made up your mind on an entertainer, make your reservation as soon as possible.
Entertainer calendars fill up fast. Especially, if your event is in Spring or during the Christmas period. Unfortunately, we all host parties at the same time.
9. Get A Contract Or Agreement
Professional entertainers should provide you with a written contract or agreement. It will outline everything you've agreed on. It doesn't have to be lengthy or overly formal but make sure everything is written down.
At PartyWizz, we provide a general agreement between the booker and the performer. When confirming the booking, both parties agree to these terms and conditions.
10. Get In Contact Before The Show
We always recommend getting in touch with the entertainer a few days before the event. In fact, they might be the one to call you. This call will help you make sure you both (still) agree on the event details.
11. Have a back-up plan
Unfortunately, we're at the mercy of unforeseeable circumstances. Although you most likely won't need your backup plan, it's always prudent to have one. In particular, if the entertainer is central to the event.
For example, check with the venue if they have a spare amp and be ready to plug in your playlist if the DJ's car breaks down. Keep it simple and keep the fun going.
When making the reservation, it's also worth checking with the entertainer if he or she provides a back-up plan. If they can't make the event, do they offer a full refund? Make sure this is also stated in the contract.
About PartyWizz
That's a wrap! You're now ready to go hire the perfect entertainer for your next event. We hope you have an amazing time.
At PartyWizz, we specialise in providing entertainment for corporate events. We pride ourselves in working only with the best entertainers in each category.
These include corporate magicians, corporate singers, DJs, Photobooths and more… If you're interested in hiring a corporate entertainer, take a look at our website.