After all the careful planning and preparations, downsizing a wedding at the last minute is a pain. It's more than that. It's heart-breaking.
It used to be uncommon but unfortunately, with COIVD, it's a possibility that many couples need to face.
You can either choose to postpone the wedding until next year, go ahead with it this year or a combination of both (having a small ceremony this year and a party next year).
There is no right or wrong answer; it's up to how you feel.
In this article, we're going to be looking at some tips for last-minute wedding downsizing. Not all the content may apply to your specific case. Skip ahead to the sections that do.
Let's get started
Check the regulations
Unfortunately, the uncertainty of COVID means that government imposed regulations are constantly fluctuating.
In Ireland, you can find all the information on the citizen's information website. And depending on the restriction level, the maximum capacity of a wedding will change:
Level 1: 100 people can attend
Level 2: 50 people can attend
Level 3: 25 people can attend
Level 4: 6 people can attend
Level 5: 6 people can attend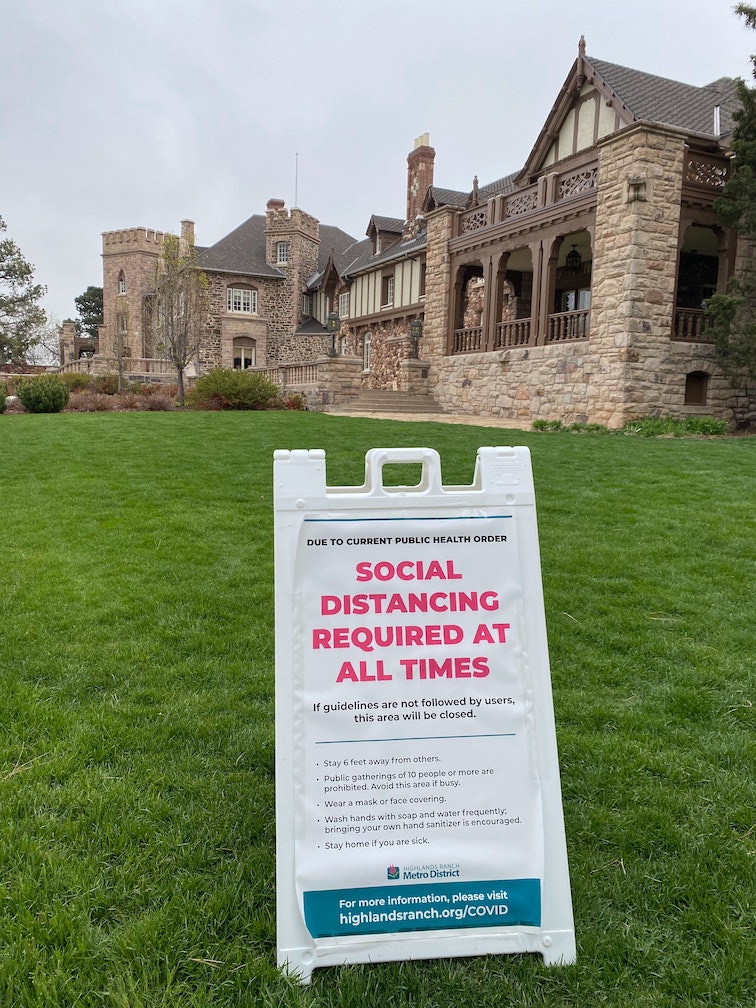 Venue downsizing
Do you need a new venue?
There are different reasons you may need a look for a different venue:
1. It might be closed. It's a pain but it's the most straight forward scenario. You have no choice but to look for a smaller venue.
2. You might not be able to travel to it. If your venue was supposed to be abroad it might be tricky to get there. In fact, in Ireland and UK, lockdowns are happening at a local level. The venue doesn't need to be far to be inaccessible.
3. It might be the wrong size for your guests. Until now, opting for a slightly smaller room proportional to your guest size was the way to go. No one likes the feeling of a huge empty room. However, this was completely flipped on its head with COVID. Big rooms can now only accommodate a few people.
4. The venue might be too expensive for a smaller guest group. Fortunately, in Ireland, if you're forced to cancel because of government regulation, you're entitled to a refund.
Looking for a new venue
When looking for a new venue, check their capacity and their COVID capacity at different levels. For example, it might be a 30 person room which can only host 25 people during COVID. 
Look for venues that are easy to get to. Don't go too far; it should be easy to travel too. Ideally in the same county.
Check for availability. They might be available on the same day or you might need to choose another date. Don't discount weekdays. They might be your best bet!
When downsizing a wedding, you, unfortunately, won't get the luxury of choice. You might have to pick what you can find. If that's too restrictive, consider postponing the wedding instead.
Guest downsizing
Reducing the number of guests is very difficult. Well… unless you select guests based on alphabetical order. Then it's easy and unquestionably fair!
Joking aside, downsizing a guest list is very difficult; It's easier to think of it as making a new one.
Making a new guestlist
The total number of your guests will be dictated by the restriction level but also by the COVID capacity of the venue.
A few things to consider (in order):
1. Establish who cannot not be there. This applies from both an emotional and a legal point of view. If your must-have guestlist is already too large (or if they won't be able to make it), you'll need to postpone the wedding.
2. Prioritise people you're close to and talk to regularly. You don't have to invite plus ones and long lost relatives. Just the people you're close to.
3. Choose guests based on location. Consider who is nearby and can make it on the day regardless of lockdowns. Unfortunately, the COVID reality is that guests who live abroad probably won't be able to make it.
4. Lastly, choose guests by 'groups'. For example, university friends vs distant relatives. Breaking up groups is always tricky, it can be simpler to just invite certain groups and not others.
Vulnerable and elderly guests
Choosing whether or not to invite vulnerable and elderly guests is very difficult. Especially, if you're close to these people. Unfortunately, the reality is that even with the right precautions there is a risk.
A few things to consider:
1. How many households will be present? How likely are they to mix?
2. Is it possible/acceptable for them to attend just the ceremony and not the reception?
3. If they live nearby, can the soon-to-be-married couple visit them on the morning of the wedding day?
Un-inviting guests
You're going to need to let your guests know that they won't be able to attend in person. A sticky conversation if ever there was one.
The easiest solution, especially if you were planning on having a very large wedding, is to tell everyone that the original wedding is cancelled and then re-invite just the key guests to the smaller ceremony. If your downsized wedding is on a different day in a different venue this is the way to go.
Alternatively, if you're only de-inviting a few guests, you can reach out to them individually and explain. The reality is that people will understand.
Guestlist practicalities
Depending on your timeline, your guests need to be informed quickly about your changes.
For that reason, we suggest omitting printed invitations and sticking to digital ones; they can still be made personal and fun.
You can check out Canva for some template ideas. Instead, you can send out printed thank you cards after the event. At that point, time isn't a problem.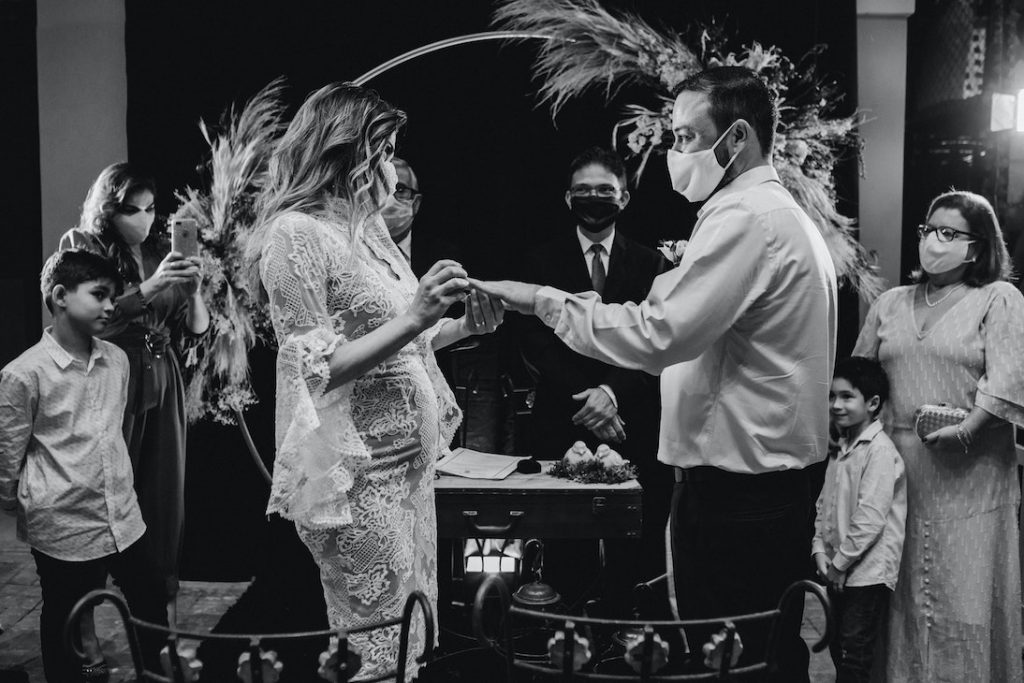 Re-plan the ceremony
The ceremony you originally planned might no longer be possible. Some of the things you were hoping for might need to change.
Here are a few of the classic ones:
1. Check who needs to wear a mask. Depending on the restriction levels, your guests are probably going to be masked for the ceremony. The bride, groom and registrar are usually exempt. Again this depends on the restriction levels, so check and plan accordingly.
2. Check the seating arrangements. As per the guidelines, people need to be grouped by households, with up to 6 people per group. Check with the venue to make sure this is feasible!
3. Check which traditions are possible. For example, your parents might not be able to walk you down the aisle, especially if you're from different households. Again this depends on the lockdown levels but you might need to make alternative plans. It's just as sweet to have the soon to be married partners walk each other down the aisle.
Note: All of these recommendations will change depending on the level of restrictions. We recommend planning for strict measures and hoping they get loosened before the big day.
Going Digital
You can of course invite all (or some of) your guests to attend digitally.
Setting up a camera for zoom in the room for the ceremony is very easy to do. It's not the same as being there in person but it's still something.
If you expect the ceremony to last more than 40 minutes, consider getting a paid Zoom subscription or using Google Meets (free for up to 1 hour) or YouTube Live with an unlisted URL (if it's your first Live, you'll need to set it up 24 hours in advance).
Modern phones have excellent cameras so there is no need for anything more elaborate. Instead, we recommend getting a tripod for the phone (which you can get for around €30) and, if you want to go the extra mile, a phone-mic (which start at around €50).
If you don't have a mic, set the phone not too far away (3 or 4 meters) from the registrar and the couple. Otherwise, the audio will get distorted.
The reality is that when it comes to streaming, the quality of the audio is just as important (if not more important) than the quality of the video.
Pro-tip: If you want a more elaborate Live stream (i.e anything more than just a static camera), we recommend hiring a videographer. It'll save you a lot of stress.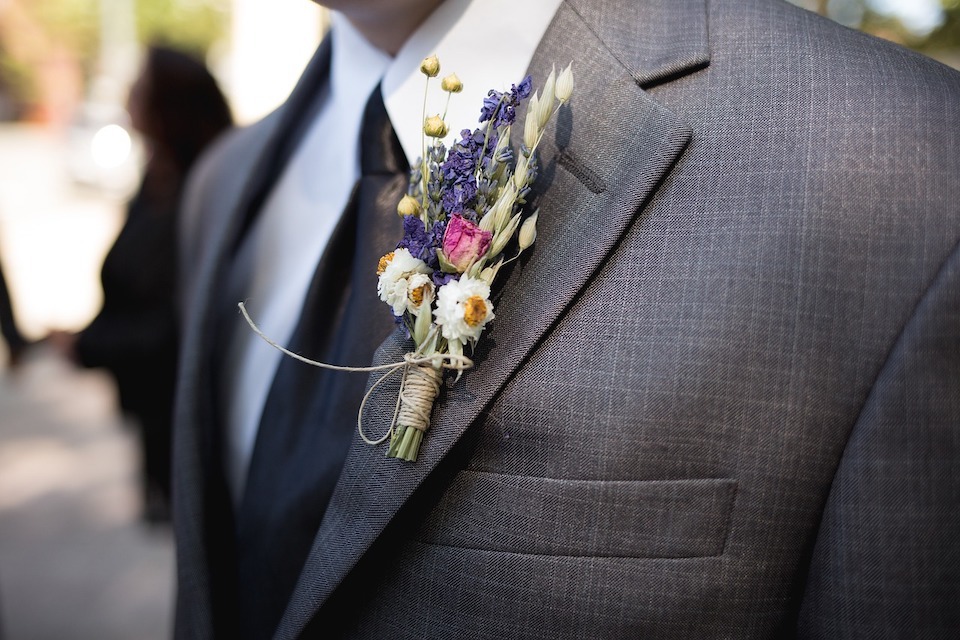 Finding new suppliers
The wedding suppliers you originally booked might no longer be an option (or even available if you changed the date). The good news is that smaller weddings require less prep work. You can also do without some of the suppliers if needed.
The key supplier is catering. Unless you have very specific food needs, with such a short time limit, the easiest is to stick with the venue catering.
Once the catering is sorted, get in contact with your other suppliers (flowers, make-up, photographers…) and see whether or not they can make it. If they can't, ask for a recommendation. They might know someone free.
Booking entertainment
The wedding entertainment you originally planned might also no longer be feasible.
The upside is that, with a smaller group, entertainment opportunities change. You get the chance to do more personal activities and it's easier to help everyone join in the fun.
If you're looking for some wedding entertainment ideas, you can check out our separate article on the topic. A lot of these ideas are or can be made, Corona friendly.
If you need some help booking entertainers, check out the PartyWizz website. We're proud to partner with the best wedding entertainers in the business.
If you have any questions please feel free to reach out.
That's a wrap
We hope you enjoy your wedding and have the best time ever.
At PartyWizz, we specialise in providing wedding entertainment and service providers. We only work with the best in each category. If you want some help, please get in touch.
Otherwise, if you've enjoyed this content and you'd like more wedding planning tips, consider subscribing to the blog!