Discover our top tips for hiring a great photographer.
At this point, you've established the need to hire someone professional for an upcoming event or project.
Unfortunately, with the democratisation of cameras, everyone and their brother can become a photographer. How do you make sure the person you're hiring is right for the job?
We've outlined everything you need to consider to make the best possible decision. 
Let's get started!
Tips for hiring a photographer
The following tips should help you reflect on everything from your objectives to vetting the quality of service provided.
What shoots does the photographer specialise in?
Parties, baby showers, weddings, products, portraits… The list of possibilities is endless.
Different photographers tend to specialise in (or at the very least prefer) different types of photoshoots. For example, hiring someone for picture yearbooks is very different from hiring someone for a wedding or a product shoot.
Look for a photographer who is familiar with the type of work you require.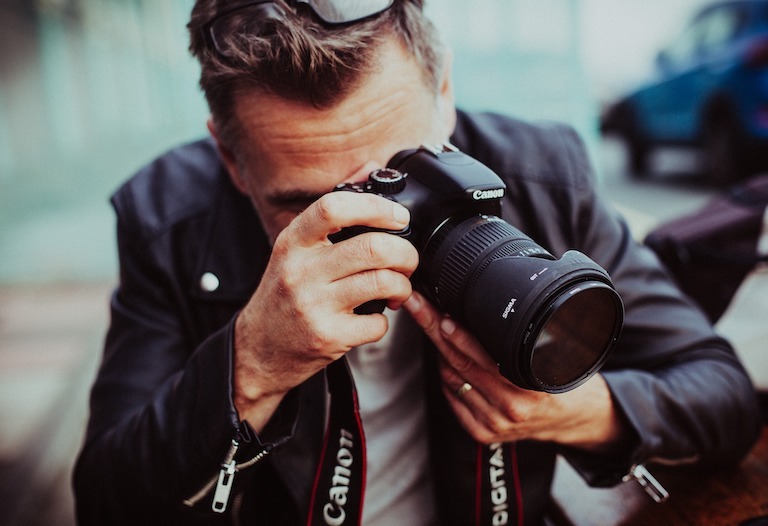 How are you going to use the pictures?
When looking for a photographer, consider the final product. Where are the pictures going to live? Are they for social media, promotional leaflets or a photo album?
Does the photographer have the required experience in that area? This is especially important if you're going to be doing something 'out of the ordinary' (like printing a 20 metre square billboard).
Most often you'll be looking digital, print or both.
What is the photographer's style?
The actual look and feel comes down to personal preference. For example, for wedding photography, you may want mainly posed photographs or you may prefer more of a reportage style. There is no right or wrong answer. Look at their past work and see if you like it… which brings us to our next point.
Check out their portfolio
Every good photographer should have an extensive portfolio to show. You should be able to find it on the photographer's website. It's also worth checking out their Instagram page to see what they publish. This in itself will give you a good idea of what they have to offer.
If you're based in Ireland, you can see the photographer's portfolio directly on their PartyWizz profile.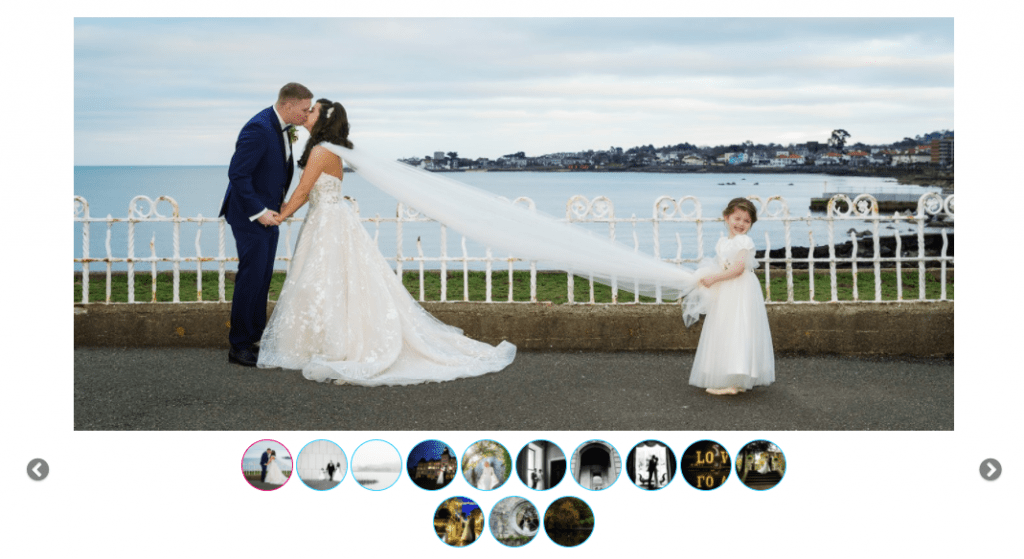 Beware of heavy editing
Not all edits are bad. However, heavy editing can indicate that the raw picture was of poor quality.
Great photographers can take excellent pictures without the need to heavily edit them. Edits are the cherry on top.
Get recommendations
When it comes to working with suppliers, a recommendation never goes amiss! Do you know anyone around you who has worked with a photographer for a similar event and/or project? Ask to see the final pictures.
Check for a vetting system
This isn't always possible (in fact it most often isn't) but check to see whether to the photographer is part of a vetting system.
For example, at PartyWizz we vet all of our entertainers and service providers to make sure we only partner in the best in each category.
Check for reviews
Check for reviews and testimonials of past clients. If you're booking a service provider through PartyWizz, you can find reviews on the profiles of each of the individual entertainers and service providers.
Otherwise, check out their reviews on Google, Facebook, Yelp… Just keep in mind that public reviews can be manipulated.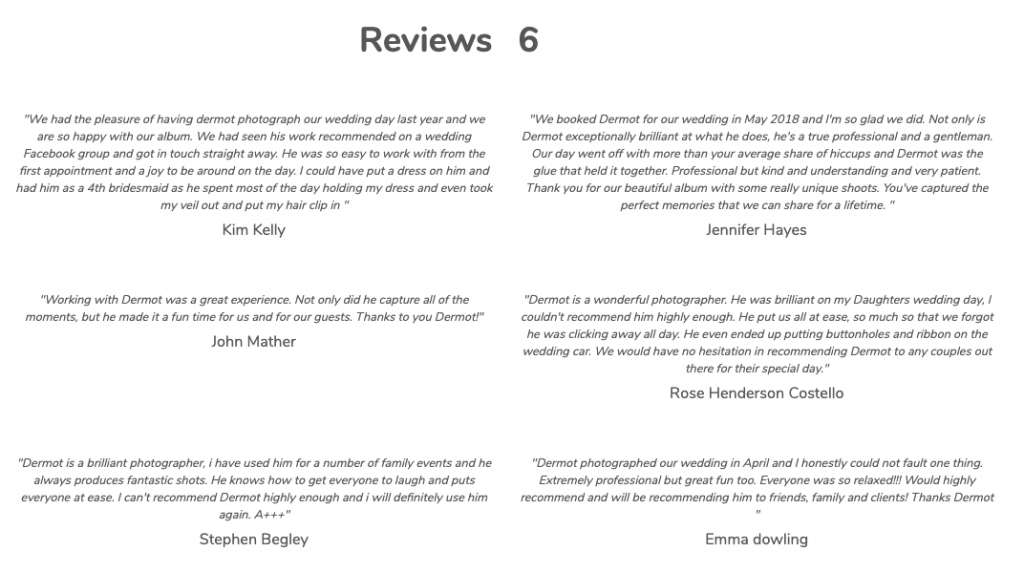 How much experience do they have?
You don't necessarily need to hire a photographer that has 20+ years of experience. There are junior photographers out there who are excellent at what they do.
However, it's worth checking that they have a few shoots under their belts before you decide on booking them.
How is their service priced?
Check out what packages they offer and how they're priced. A few things you'll want to check are:
How much they charge
How long they'll be onsite
Will they do edits & how long will they take?
Is there a limit/range on the number of pictures they'll send you?
Different photographers operated differently so make sure you read the fine print carefully.
If you're booking a photographer through PartyWizz, you can find all this information on the profiles of the individual photographers.
Are they available?
Once you've made up your mind on a photographer, reach out to them and see whether or not they're available on the date you need them. Remember: calendars fill up fast. The sooner you start looking, the more choice you'll have.
If you're based in Ireland, you can use PartyWizz to automatically check for availability.
Simply fill in the form at the top of the page, and the system will return the suppliers who are provisionally available on that day at that location.

Decide on a location
To make good pictures, you need to carefully consider where the shoot will happen.
If the pictures are event-related, the shoot will happen in or around the venue. Otherwise, ask the photographer for some ideas. They should know some great spots.
What happens to the pictures once they are taken?
Once the pictures are taken, who has ownership over them? how will they be shared? For example, you may or may not want the photographer to share your pictures on their Instagram page. These are all things you need to clarify before the shoot takes place; every situation is different.
Note: In Ireland, unless otherwise specified by contract, the pictures legally belong to the person who paid for them.
Get A Contract Or Agreement
Professional photographers should provide you with a written contract or agreement. It will outline everything you've agreed on. It doesn't have to be lengthy or overly formal but make sure everything is written down.
At PartyWizz, we provide a general agreement between the booker and the performer. When confirming the booking, both parties agree to these terms and conditions.
Get In Contact Before The Show
We always recommend getting in touch with suppliers a few days before the event which also applies to photographers. In fact, they might be the one to call you. This call will help you make sure you both (still) agree on the event details.
Have a back-up plan
Unfortunately, we're at the mercy of unforeseeable circumstances. Although you most likely won't need your backup plan, it's always prudent to have one. Better safe than sorry!
When it comes to photographers, you realistically have three options: no professional pictures, having a back-up date or having a back-up photographer. Choose the fallback plan that suits you best and plan accordingly.
Lastly, when making the reservation, see if he or she provides a back-up plan. If they can't make the event, do they offer a full refund? Make sure this is all stated in the contract!
That's a wrap!
You're now ready to book a photographer.
If you're based in Ireland and you're interested in booking a photographer, check out the PartyWizz platform.
We're proud to be partnering with the best entertainers and service providers in every category. The whole process is automated which allows you to make a booking online in seconds.