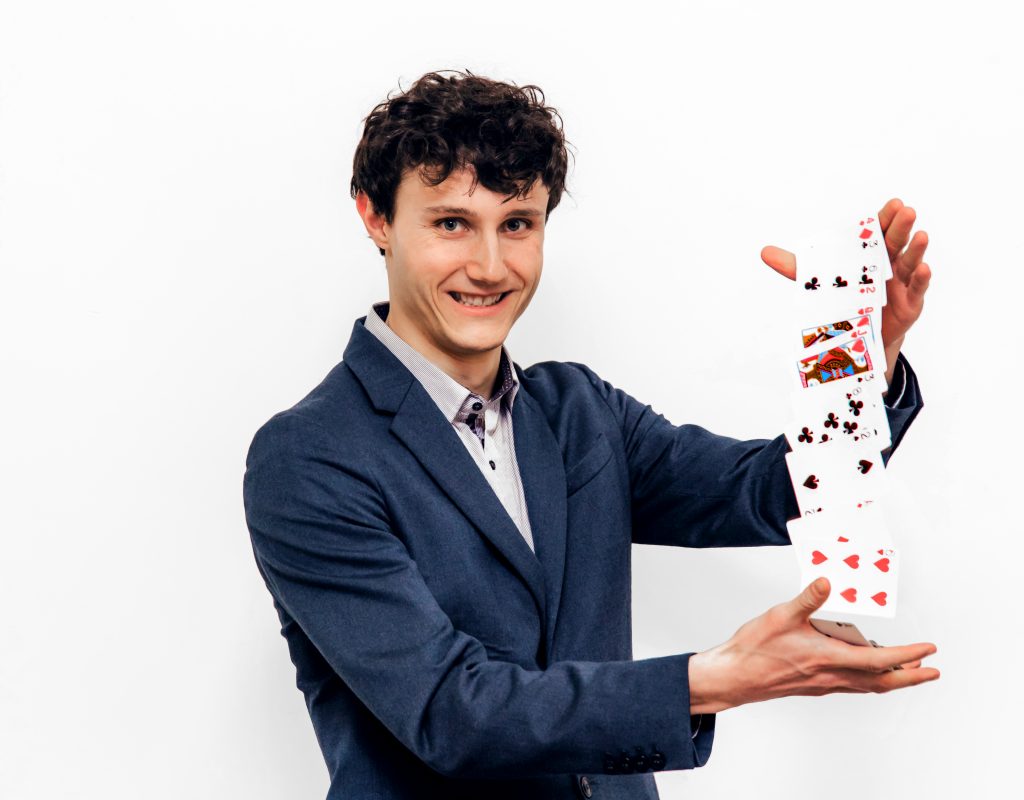 Get to know Yvan Zim
Yvan Zim is a magician based in Dublin who has been performing magic for the past 10 years. He is a very versatile performer, doing shows for kids and adults alike. He performs at almost every occasions: weddings, corporate events, festivals and kid's parties to name a few.
Quickfire Questions
We asked Yvan a few questions to get to know him, his show and what he plans on doing next. Here are his answers.
Where are you from?
Not too sure…  I'd have to say Paris. I have family in Wexford but I grew up in France (I'm half-French / half-Irish).
When did you move to Ireland?
I moved back to Ireland 3 years ago. In 2012, I left France and moved to Canada for my undergraduate studies. Then in 2016, I moved to Dublin for my master's degree and I've been here ever since.
What is your background?
My academic background is in digital marketing and computer science. I've always loved geeky stuff… that's one of the reasons why I got interested in magic as well.
When did you first get interested in magic?
I started magic when I was 16 which is pretty late compared to most magicians. My older brother, who was dabbling in magic at that time, showed me videos of a French magician called David Stone. That's the first time I ever saw a professional level magic being performed.  It completely fooled me and I've been hooked ever since.
I'd like to think that if I hadn't stumbled into magic, I probably would have found another performance art to do. I've always loved to do live shows. I feel that there's an atmosphere to them that's unique. Anything that is recorded just isn't the same. In Dublin, were so lucky with the shows.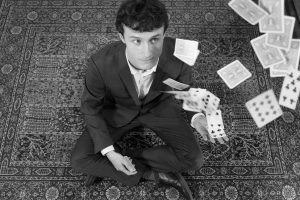 How did you learn magic?
I'm almost entirely self-taught. However, as it's a performance-driven form or entertainment, I've taken some theatre classes.
What does it take to be a successful magician?
I think passion is what really matters. Magic is a surprising amount of work. You can get help from other magicians but at the end of the day you need to put in the hours if you want to achieve anything. 
Tell us a little bit about your show(s)
I perform three types of shows:
Mix and mingle magic — With this format, I go from group to group performing tricks up close. This is great for weddings, receptions, festivals and so on.
A family show — this is a formal show with a seated audience. It's designed to be enjoyed by kids and adults alike…. And yes it also fools the parents who are watching.
An evening show — this is a formal show tailored towards a more adult audience. Usually, I perform this show in the evening after dinner or as an opening act to the evening.
What makes you/your show different?
Contrary to a lot of my magician friends, I don't perform a traditional kid's show (a show tailored to younger audiences around 4 to 6). Instead, I perform a family show which is more suited to a mixed audience or 7+ years old.
Part of this has to do with my previous background in entertainment. I was a scout chief for a few years and then I was a camp counsellor for a year after that. I just got used to entertaining that age group. A lot of kid's magicians find that age group tricky so I'm happy to fill in.
Why do you think people like magic?
Truly being astonished and amazed is a really unique feeling. It's like being a child again for a few minutes.
Why is magic the perfect type of party entertainment 
One of the best things about magic is that it's universal and it transcends age and language barriers. I can perform for a crowd that doesn't speak French or English, or a crowd that has a mixed age group and it will still work. I think that's fairly unique to magic.
What is your favourite type of audience?
I can't say that I really have a favourite. Any audience looking forward to having a good time is a great audience.
Do kids and adults react differently to magic?  Who are easier to fool?
When we witness a good magic trick, I think we ultimately all react like kids. Adults just have more restraint. I think the difference between the two groups is more in terms of the type of tricks we enjoy watching.
When it comes to the actual "magic", fooling kids isn't necessarily easier. I find that kids generally have a more questioning mind set which can make them harder to fool than adults.
Whom do you rate as the best entertainer of all time?
My favourite performer has to be Rowan Atkinson. The comedy he's able to create just through body language is unbelievable. In general, I think there is a certain beauty about creating humour from nothing. No agenda, no topic, no logical story… just comedy distilled down to its simplest form.
When it comes to magic, my favourite entertainer would have to be Derren Brown or Rob Zebrecky.
What do you do when you are not doing magic?
In addition to performing magic, I also do some digital marketing and some programming which I really enjoy. In fact this year, I've been doing some digital marketing work for the PartyWizz platform.  Of course for me, doing work for PartyWizz is the best of both worlds.
Tell us something we wouldn't know about you
Not sure what to say… I'm French? I'm left-handed?
Do you have a magic related ambition?
My short-term ambition is to perform more in comedy clubs. I think they're a really fun crowd to perform for. My long-term ambition would be being part of a touring show. Ideally with other performers because it's more fun. But we'll see where life takes me.
Tell us a joke
Q: What do you call a dog magician?
A: A labracadabrador.
Why do you like PartyWizz
PartyWizz is great. It does all my admin work for me. I think it really allows performers to focus on their shows.
Interested in booking Yvan for your next event?
You can book Yvan online for his amazing family show or for his unbelievable close-up magic for other events. These events can be weddings, corporate function events or private parties.