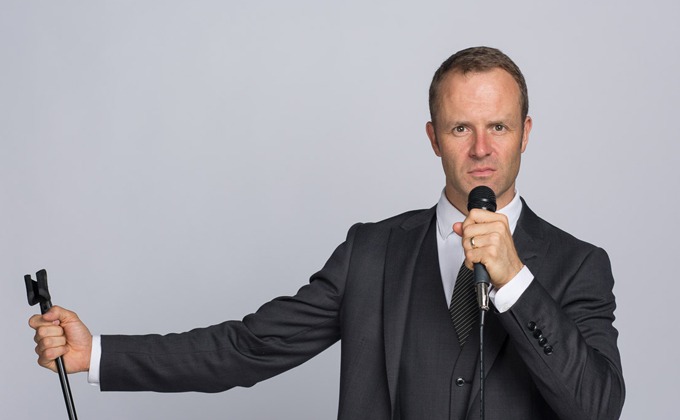 Get to know Jack Wise
Jack Wise is one of the best known and loved entertainers in Ireland.  He is well established as a comedy magician but he is also a sword-swallower and ventriloquist.
He is incredibly versatile performing at a wide range of events from international festivals, to corporate and private parties, for both adults and children.  He also performs at comedy clubs and is a regular headliner at the Laughter Lounge in Dublin.
We sat down with Jack and asked him about his philosophy on magic and entertaining, and what makes him different.
Quickfire questions
What is your background
I'm from Ballsbridge in Dublin and I guess I'm really the black sheep of the family.  I started off working for a private investigative firm and was then offered a place on a course of Electrical Engineering.  I turned it down, and looking back, I'm glad I did as that paved the way to getting into entertainment instead.
Have you always been interested in magic?
I have had an interest in magic since I was 8.  I was fascinated with magic on TV and then I bought a series of magic tricks that were marketed by the well -known TV magician at the time, Paul Daniels.  Shortly afterwards an elderly neighbour taught me the Three Card trick, and that was it; I was hooked.
At what point did you think that magic might make a good career?
Whilst still young I performed one of my tricks for my Aunt.  This is a lady who is known for being pretty vocal, and let's say she would never spare the opportunity to make constructive criticism.  She was overhead swearing and saying 'How is that child doing that'.  At that moment I knew I was on to something!
How did you learn to do magic professionally?
When I was about 20, I took a Summer job working in the magic shop that used to be in St Stephen's Green Shopping Centre.  I used to demonstrate the tricks which was a great way to practice in front of a live audience and learn presentation skills.  I also joined the Society of Irish Magicians where I met many fantastic professional magicians.
It was also at that point that I met two wonderful magicians, Quentin Reynolds and Barry Sinclair, (the latter who is also on the PartyWizz platform).  They were huge inspirations and became my magic mentors.
What is it about magic that engages you?
For me there are two payoffs to an interest in magic.  The first is the mystery.  Unlike some people who only want to know how a trick is done, I genuinely enjoy being fooled.  The second is obviously the secret – finding out how a trick is done is very satisfying.
[siteorigin_widget class="WP_Widget_Media_Image"][/siteorigin_widget]
How did you start to incorporate comedy into your magic?
One of my earliest regular gigs was in the Pod nightclub and I remember one day adding a joke into one of my routines.  I saw the reaction on the audience's faces and I knew at that point that the comedy element could be hugely valuable.
Depending on their perspective, people now either see me as a magician who also does comedy or a comedian who also does magic.
But you are also a sword swallower and a ventriloquist, right?
Yes – I love variety.  My act was once described in the press as 'modern day vaudeville'.  I think that's a pretty good description of what I do.
I saw sword swallowing done in a festival and I thought 'that's the coolest thing ever, I need to do that'.  And so I taught myself.  I don't recommend that though.  When I look back it probably wasn't a good idea!
How would you describe your style when entertaining children?
I don't treat the audience like kids.  I don't talk down to them or patronise them; I just have a laugh with them, and I think they react well to that.  I love performing to families with mixed ages at events like communions and christenings.  When everyone from the grandparents to the youngest are laughing, I know I'm doing my job.
What are your favourite type of shows?
I love a challenge – be it a heckler or something that happens which is unexpected.  I think most entertainers are intimidated by the unknown.  I love it.  You never know what is going to happen in a live show and I see unplanned events as opportunities for comedy and entertainment, and so I exploit them.
I also like doing shows for troubled teenagers.  Again, most people might shy away from these kinds of shows, but I find them especially rewarding.
I also love those hot festival days when people are tired and jaded by the heat and they hear you are a magician.  You can see them thinking 'please make this good'.  Then, I see them all swept up in the fun and the best gigs are when everyone seems to be riding a communal wave of fun and laughter.
What is the one thing that makes you different?
Every show is unique as the audience is always part of the show and they react differently.  I use volunteers throughout the performance and they are always equally the stars of the show.  I treat all volunteers with respect as I realise there wouldn't be a show without them.  I aim for the audience to be thinking 'that volunteer was a great sport' as they come back to their seat.  Every spectator that helps in my show walks off the stage a hero. 
Why do you continue to do what you do?
Magic is incredibly rewarding in different ways.  Firstly, I've made a good living from it.  But also, you get to see the spellbound look on your audience's faces and hear them gasp.  Seeing that moment of mystery captured in the expression on their faces is what it's all about for me.
How has the industry changed since you started 20 years ago?
I don't think entertainment, in general, has changed that much.  People always want to laugh.  And a kid's magic show is timeless.  Creating a memory is the essence of what you are doing.  I love it when families ask me back because they fondly remember my show for another family member previously.  I always feel really proud to be asked back.
What's your favourite joke?
Q: Where do chickens go when they die?
A: The oven.
Why do you like PartyWizz
It's user-friendly for both entertainers and those booking us alike.
Interested in booking Jack Wise for your next event?