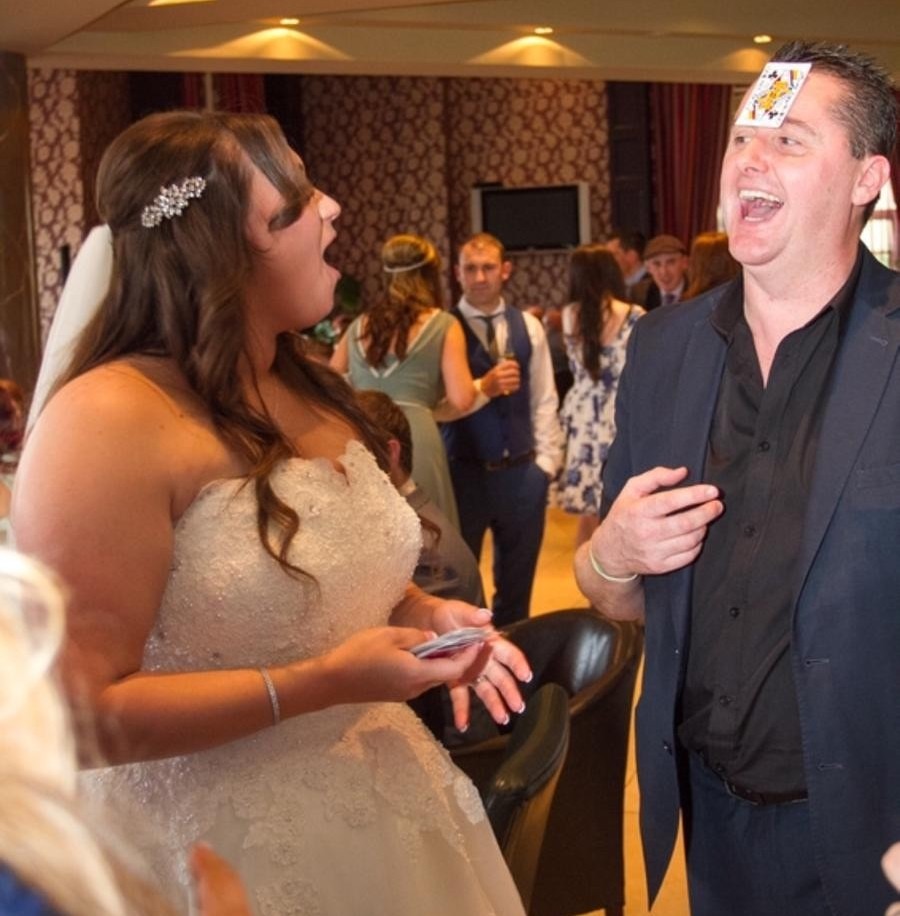 Get to know Carl Campbell
Carl is one of the most versatile magicians in Ireland.  He is a well-known kid's magician but is also just as adept at wowing adult audiences with his amazing close-up magic.
He performs at all occasions from weddings and private parties to corporate events and family fun days and has been a professional magician for 15 years.
Quickfire questions
We asked Carl how he got into magic, what happens in his shows and for his thoughts on being a magician in 2019. Here are his answers!
What is your background?
I was a printer for 11 years before I was a magician but I was always fairly creative having studied art at college after school.
How and when did you get into magic?
I have always been fascinated by magic.  My grandfather used to do some tricks and when I was 10 he gave me a magic set as a present.  That got me hooked!
Funnily enough, I found the same set on eBay this year and when it arrived in the post it brought back amazing memories of discovering magic for the first time.  It was really quite emotional.
Did anyone particularly inspire you to start?
Apart from my Grandfather, I used to watch the Paul Daniels magic show and I guess, like many budding magicians of the time, he was a real inspiration.
Did you always want to be a magician?
I always wanted to be either an artist or a magician – magician won!
How did you become a professional?
I was made redundant as a printer and one day I was searching the internet and came across an online magic shop.
I had dropped magic in my teens and early 20s – it wasn't very cool in those days to be a magician and I was more focused on chasing girls!  But chancing upon the magic shop really brought the passion back.
Since there were no magic shops in Dublin, I bought a few tricks online and that was it.  Within 5 years I was a professional magician and I've never looked back.
How did you learn magic?
I am self-taught really and learnt by reading lots of magic books and instructional DVDs.  Later I became a member of the prestigious Society of Irish Magicians (SIM) where I would share my love of magic with others and pick up more ideas.
Why do you enjoy what you do?
I love seeing the reaction on people's faces.  Taking people back to that sense of wonder and doing the impossible is really rewarding.
Tell us about the kid's parties that you do
So I offer a one hour show which is a mix of visual magic and slap-stick comedy.  I perform around 15 different tricks which culminates in the appearance of a live bunny rabbit.
Making a rabbit appear is a classic of magic but very few people actually perform it these days, and the kids love it.  There is loads of audience participation in my show and the kids get to come up and help make the magic happen
And you also do magic for adults. What kind of occasions?
I perform at all occasions but I'm pretty well-known as a wedding magician.  I also perform at all family occasions as well as corporate events.  I recently did a birthday party for a 104-year-old!
When someone asks me what age my magic is suitable for, I like to say that I perform for everyone from 4 to 104 – and two hours past death!
Do you think kids or adults are more difficult to fool and entertain?
Definitely, kids are more difficult to fool!  They look at things in a more direct way than adults so they are more likely to work out what is going on.
Which do you prefer?
I honestly love performing for both, but for different reasons.  And I love the variety.
What is your favourite kind of gig or have any been especially memorable?
I enjoy most of the shows I do – but someone once gave me a 500 euro tip – so that one is especially memorable!
Do you have any amusing performing stories you can share?
I often get repeat bookings which is nice. Once I was asked back to do a show for a family but between the two shows my rabbit died and I had bought a new one.  I'd struggled to find a white rabbit so I'd ended up with a black one.
After making the rabbit appear, which is always the climax of my show, the son who had seen it before came running up to me and said 'wow!  Not only did you make the rabbit appear but you changed its colour by magic too!'
Has the kid's party industry changed since you started in it?
I think the industry has got more competitive.  You have to keep on your toes and make sure you are really doing a good show to impress the kids.
In the days of iPads and games consoles, it's also harder to keep their attention for long.  I had one gig the other day where all the kids were on their smartphones during the performance!
How many shows do you estimate you have personally done? 
I estimate that I've performed between 3,500 and 4000 shows during my 15-year career in magic.  Magic has been good to me!
But even now when people ask me what I do and I say 'I'm a magician', they look and me and say 'yes, but what's your real job?' They can't seem to believe you can make a living out of it – but I have made a successful career of it.
What's your top 3 party tips for someone hosting a stress-free kids party?
Feed the kids after the show and definitely don't give them sugar before or during!
Put toys away or cover them up before the performance
Invite the kids to arrive at least 30 minutes before the show to allow for latecomers
What do you think of PartyWizz?
It's a great way to make the process easier for those booking and at the same time provide more business for performers.
If you could perform for anyone, who would it be?
My Dad.  Sadly, he passed away when I was 8, before I got into magic.
Do you have a favourite child-friendly joke?!
Knock knock
Whose there?
Phylis
Phylis who
Phylis a glass of water please!
Interested in booking Carl for your next event?
You can book Carl online for an action-packed kid's party or for his amazing close-up magic for events for adults. These events can be weddings, corporate function events or private parties.