Get To Know Eugene Corr
Eugene is one of the most sought-after kid's magicians in the country. His comedy magic show, which culminates in the appearance of a live bunny rabbit, is much in demand for everything from Children's birthday parties to Corporate family events.
We asked Eugene to share the 'secrets' to his start in magic and his ongoing success as a professional party magician.
Quickfire Questions With Eugene
What is your background?
I did psychology in college because I thought it would make me a better magician. I don't know if it did but the two areas do feed off each either.
How did you get into magic?
Like many magicians, I got into magic at an early age. I came across some tricks in a comic when I was a kid and I was hooked.
When did magic become your career?
I went full time when I was 25.
How did you learn to do magic professionally?
Trial and error, mostly error.
What is it that you like about magic?
It constantly surprises. You can be doing a trick for 20 years and still get new ideas.
Who is your favourite magician?
An American magician called Lance Burton. I've watched his dove act hundreds of times. Beautiful magic.
Is there anyone else who inspires you?
Magician Wayne Dobson is pretty inspiring. He got Multiple sclerosis and needs carers to help him yet he still constantly invents tricks. So, he's thriving by means of his sheer intelligence and creativity. Truly inspirational.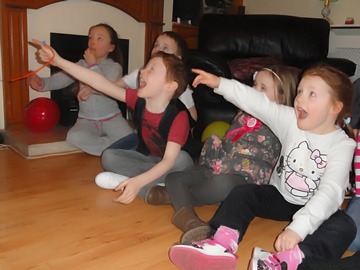 Why do you like entertaining children?
Well let's face it, it's a really fun job. And the kids can be hilarious themselves.
Tell us about your show and what makes it different?
I do lots of tricks and original routines which other magicians won't be doing. So I don't get the "seen it before" comment. Also, when real doves and a rabbit appear, you can see the astonishment on their faces. It's like real magic that they've only seen on TV. And it's all comedy magic.
Do you have any particular shows that stand out for you?
Well, there was that show in Stephen's Green where my rabbit ran off followed by me chasing it! That's what it said in the paper anyway!
Tell us something we wouldn't know about you?
I once did a Seminar on creativity for the top hairdressers in the country. Talk about getting the wrong guy to advise about style!
We're discussing this during the Coronavirus outbreak. Any tips for keeping kids entertained at home?
Boredom has its place too. It's well established in psychology that a period of boredom before thinking increases creativity. Then, get them to draw an anti-virus machine.
Interessted in Booking Eugene Corr?
If you're interested in booking Eugene Corr for your next party, you can find all the relevant information on his PartyWizz profile.