It's been a tough few months!
It's hard enough to keep kids busy and entertained throughout the Summer while social distancing is in place.
You've barely come to terms with your new role as a school teacher, reluctantly eased your children's screen time restrictions to an all-time low (in a desperate bid for some peace), and now you face the daunting task of putting on a contactless birthday party.
One parent recently described to me their new, unelected vocation as a 'Butlins Redcoat with a syllabus!'
In this article we're going to cover:
Let's dive in!
To Throw or Not to Throw?
The first thought of many parents, faced with a looming birthday at this time, is to postpone the celebrations.
This is the easy option but unfortunately, it's very likely to disappoint the would-be party goers.
Especially since, in these uncertain times, we don't know when parties will be back to 'new normal' let alone what this may actually mean.
You can, of course, just celebrate with immediate family by doing something special such as ordering a takeaway from a restaurant or playing a favourite game together, but if friends are considered a necessary part of the fun, this may not cut the mustard.
So, given that a traditional party may not be possible for a while, and keen to avoid tears, what can you do instead?
Virtual vs Outside Parties
The good news is that a little bit of creativity and planning can conjure up a party that is just as magical as a traditional one.
So here we give you some ideas for putting on a physically distanced party that respects the current limitations but doesn't skimp on fun or social interaction.
There are two main scenarios for a children's birthday party with physical distancing that we will focus on here. The first is a virtual party and the second is an outside party, both of which can include a group of friends.
The most appropriate option to choose will tend to depend on 4 questions.
How far into the easing of lockdown restrictions are you planning to have the party?
What are the current government guidelines for social distancing in your particular area?
What type of format do you and other parents feel comfortable with?
What level of risk are you prepared to take concerning the weather?!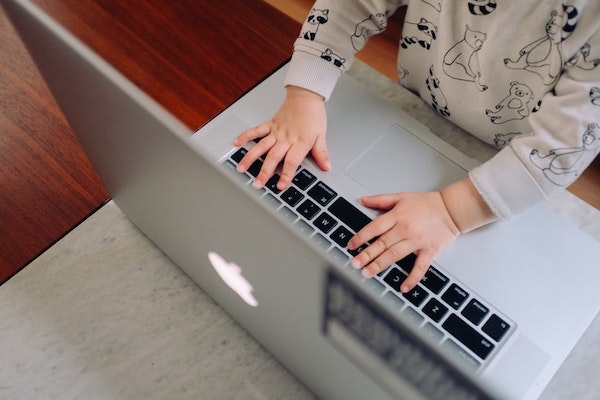 Planning Virtual Parties
Zoom parties can be the next best thing. In essence, you come up with a fun activity and invite family and/or friends to join you online to help celebrate. This could be as simple as cake cutting and singing happy birthday or involve booking a professional entertainer.
Your child may not get to see their friends and extended family in person, but there are a few benefits too…
You don't need to worry about party bags, and there is far less mess to clean up afterwards! (A strong case for these parties becoming part of the 'new normal' perhaps!)
Now that the novelty of virtual meetings with extended family has worn off, you can put your newly learned Zoom skills to good use.
Indeed, since many people have become increasingly video-chat-savvy in recent months, the technical considerations are not so intimidating.
Multiple video chat platforms can host such parties including Zoom, Houseparty and Microsoft Teams.
These work by creating a link which you send out for your guests to join you virtually, at the agreed time.
Our virtual party pro-tips:
Familiarise yourself with your chosen video conferencing platform before the party to avoid problems and delays on the day
Try to avoid inviting too many guests to join as interaction can be more difficult with larger groups
Add a Zoom party background to add to the atmosphere – you can create one on Canva
Ensure you know how to mute participants' microphones if necessary
Get kids to wear name badges so they can be more easily identified
Less is more – keep the number of activities to a minimum. 20-30 minutes is probably ample in a virtual environment as it can be difficult to hold children's attention for longer
Note that a free Zoom account may restrict you to a maximum of 40 minutes (or give you the hassle of creating a new invitation for everyone to re-join)
Record the party for a fun memento – easy to facilitate with most video conferencing platforms.
Virtual Party Entertainment Ideas
Cake cutting
This is one of the central tenets of a traditional party and it works well virtually too. You can focus the camera on the cake as your child blows out the candles – to a virtual rendition of 'Happy Birthday' of course.
The downside is the socially distanced revellers won't get to taste your fabulous creation, but the upside is you get to bake a smaller cake!
As a standalone activity, it's one of the simplest to arrange virtually, but it can also be tagged on to any other activity you decide to plan. Add present-opening, especially if those tuning in have sent presents in advance, and/or simple party games.
Hire an online entertainer
In recent weeks, many kid's entertainers have become adept at tailoring their particular brand of fun to an online environment, and now offer various types of virtual packages.
It works particularly well for magic, music, story-telling and party games.
Magicians have adapted their show to keep all the magic without needing kids from the audience to physically come up to help make the magic happen.
The audience participation can be done virtually and so the shows can still be very interactive.
PartyWizz Magician, Carl Campbell says :
"Virtual parties are great. You get all the fun and amazement of a regular magic show, but it's online and therefore completely safe. In my Zoom show, Mr Fluffy the rabbit still makes an appearance too!"
You can book Carl and others for a virtual party directly through PartyWizz.
Virtual games and activities
If you don't want to hire a professional entertainer, you can organise simple interactive games and activities yourself.
Google Play and the App store offer several multiplayer online games. Some such as 'Heads up' are also available on House Party without having to download.
One of our favourites is Heads Up (recommended for ages 7 and up) and the same creators have launched a fantastic new game called Psych where you are encouraged to lie as you make up fake answers to real trivia questions! (Don't leave this just for the kids – you'll find it far more fun than your virtual boot camp!)
At the cutting edge of multiplayer gaming technology is the recently launched Space Team VR, an amazing virtual reality game where you and your team have to keep your space ship flying, following wrongly assigned instructions. It's totally immersive and super fun but does require your kids and their friends to have a Virtual Reality headset.
Arts and craft activities are also great fun to do collectively. You can send out the materials in advance and all those invited can make their crafts together online. Then get your guests, in turn, to hold their creations to the camera for everyone to admire (or scrutinise).
Planning Outside Parties
As social distancing restrictions start to be lifted and people feel safer meeting physically, outside parties can be the perfect way to celebrate over the Summer months.
The unknown element is of course is the weather. Here in Ireland and the UK where our weather is notoriously unreliable, it can be a bit of a gamble! Especially with social distancing as you may not have the option of going inside as plan B.
But for those brave enough to risk it, (or those happy enough to revert to a virtual party or last-minute postponement), it can be a fantastic option.
Our Outside Party Pro-tips:
Create a WhatsApp group to be able to easily communicate with guests last minute in case of a change of plan
Mark out spaces on the ground which conform with the latest social distancing guidelines in your area. If the kids are sitting on the ground this can be done with pieces of rope of hula hoops. Distance will be created naturally if you have beanbags, chairs or rugs.
Ask parents to stay to help supervise kids rather than just drop them off as they might normally.
Arm yourself with hand sanitiser
Make sure that any food served is in individual portions rather than buffet style
Don't forget a cold glass of wine to toast your new outside party planning skills!
Garden Party Entertainment Ideas
Hire a professional entertainer
Some entertainers are offering entertainment packages which can be performed outside. These shows are as close as you get to a traditional one.
For example, PartyWizz entertainers Genie Mackers offer a physically distanced party which they can perform outside where space allows. Dee from Genie Mackers says:
"Parks and greens are great for an outside party if you don't have a big garden. The difference is parents stay with the kids to supervise rather than dropping them off as they would normally do for a regular party."
Other differences with a physically distanced outside party are that kids will participate from their seats rather than going up on 'stage' to help, and some activities will be restricted due to distancing and safety issues.
Dee explains, "Our magic and puppet show is physically distanced but there is still loads of audience interaction and they are great fun. Face painting is omitted but party games and our bubble disco are possible along with other great activities for outdoor fun! "
PartyWizz entertainer Emma Slowe says:
"Outdoor parties can be fantastic and our disco party fun package works brilliantly outside".
To learn more about Emma and, Emma Slowe entertainments, check out her profile. She also provides a gazebo as an optional extra, if required.
You can also book outside party entertainers directly through PartyWizz.
Home Cinema
If you have a garden, and a wall to project on, you can create a makeshift home cinema outside. Beanbags or rugs, positioned apart make ideal seats.
Don't forget the individual boxes of popcorn!
Drive-by
Here the birthday child can still see their friends in person but physical distancing is easier to ensure.
The idea is that the birthday boy or girl sits outside their home on a chair, (or 'throne' if you want to make them feel extra special!).
Their friends then drive up to them in a car (probably with their parents) and serenade them with 'Happy Birthday', and perhaps drop off presents.
In return, you can give the parading guests a goody bag or a slice of birthday cake.
You can set the scene by adorning the front garden with birthday decorations.
Have fun…at a distance!
Hopefully, that's given you some food for thought… Parties with physical distancing may be different but they can be just as much fun.
Now is the time to choose your format and get planning. Enjoy and stay safe!
About PartyWizz
PartyWizz helps parents and party organisers easily book entertainment and key elements of a party online.
We pride ourselves in working with the best entertainers in each category – magicians, face painters, balloon modellers, princess parties, arts and crafts, and more.
We also provide pre-filled themed party bags, free e-vites for many of our themes, useful party planning tips, and even help with venue ideas.
If you're based in Ireland and you're interested in hiring virtual entertainment or an outside party you can book directly through PartyWizz.