In a previous interview, we spoke with Juliette from Genie Mackers about her successful career in children's entertainment.
At that point, she was just about to launch a professional close-up magic brand 'Voilà Magic' with her friend Dee.
We thought we'd catch up on everything that has happened since.
Get to Know Voilà Magic.
Tell us what has happened since we last spoke.
A LOT! I have 12 years of magic behind me, but in the last couple of years I've discovered a whole new world of magic. It's just been so full-on.
Thanks to how welcoming the magic community has been, Dee and I are learning new magic constantly – we've entered the professional world of magic much faster than we anticipated.
We've been working weddings, corporate events, private functions and more recently gigs for the Dublin Chamber of commerce and the Red Cross Annual awards ball.
I just love it! I get such a buzz from people's reactions when we perform!
Being the only female close-up magicians in the Republic of Ireland helps people remember us, I think too.
What inspired you to perform for adults having been a kid's entertainer for so long?
I hired a magician for my mother's 60th birthday a few years ago and loved what he did – the magic required more skill but the energy levels were different and it was my style of banter.
A Genie couldn't make half of the jokes that magicians made … believe me! I had been doing kids magic for 10 years at that stage, and had recently become a mother.
It was kiddy stuff at home and kiddy stuff at work and I suppose I wanted to have something more adult in my life!
Much as I love entertaining kids and will never stop doing that, it's nice to enter the adult world as ourselves, instead of as a superhero or fairy, and entertain at the same time!
And Dee, how did you get into the entertainment business originally?
I come from a fine art background. After finishing a masters, I started face painting for Genie Mackers on weekends to fund my art and photography projects.
I watched Juliette in action and fell in love with the idea of entertaining kids.
It's something I would never have imagined myself doing, especially coming from an art background.
In hindsight, I did spend most of my childhood dressed as a princess and watching Paul Daniels! so I guess it really was a sort of natural progression!
I was hooked. Juliette has been an incredible inspiration to me and without her I wouldn't be where I am now and most certainly wouldn't be eagerly performing close up magic for adults!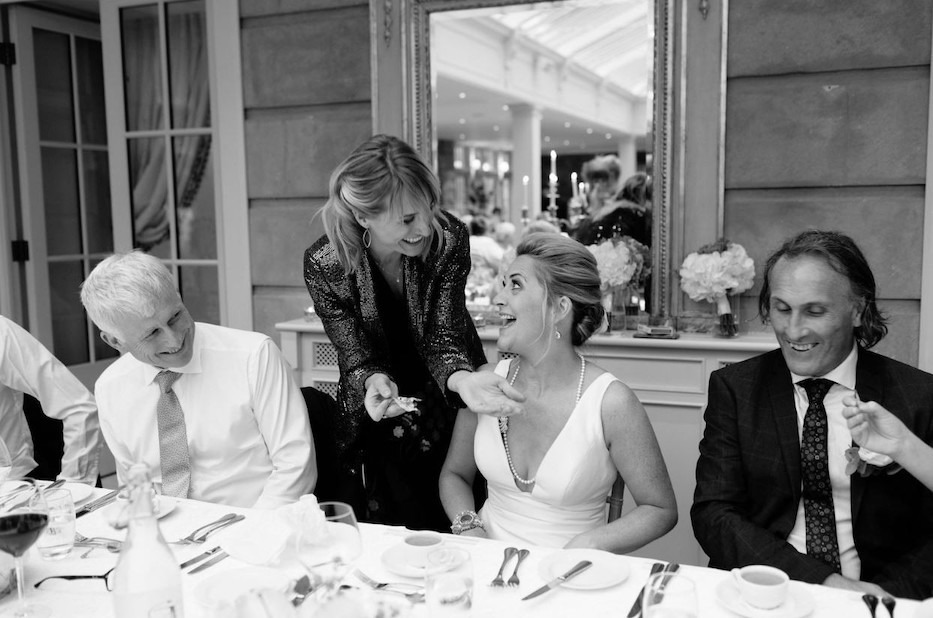 And how have you found the journey from entertaining kids to adults?
I think the kid's parties have really prepared us for this!
David Kaye, the most inspirational kid's magician we know, maintained that entertaining kids is like entertaining drunk adults!
And it's so true, although doing magic for adults involves a lot more technical skill, it is certainly no harder than a room of kids!
For kids, the whole world is full of wonder anyway, so the magic is all about the story, the journey to the magic, it's a lot about the build-up and less about the trick itself.
With adults it's the opposite – they want some of the wonder back, so they love the result of the magic trick itself, they want to be wowed, they want to be baffled!
Genie Mackers is your stage name for kid's entertainment, what is your stage name as close up magicians?
We have agonised over a stage name for ages now. Using words like 'adult entertainment' and 'close-up tricks' risks being misleading to say they least… so it's sort of hard to find the words to sell our performance!
We were using Genie Mackers and then our own names Dee & Jules for a while. Then one of the Genie Mackers entertainers came up with 'Voila Magic'!
We thought it conveyed a sense of what we were about: it's strong, feminine, elegant and dynamic. So we are sticking with Voila Magic for now!
So you already had the performance skills. How have you learnt your craft as close-up magicians?
We were introduced to the Magic Circle by the wonderful Pat Fallon, who Juliette met and watched performing magic at Johnny Fox's pub.
And we most certainly wouldn't be where we are now without our wonderful muse Hamish Urquhart and his amazing mentoring skills!
Meeting, interacting and learning from such great magicians really inspired us to work hard at becoming professionals!
We also spent lots of time in bars and on the street practicing our magic tricks on lots of lucky random people!
These have been the best places of practice for us and where we've learned the most through trial and error!
We also meet up in cafés every week or so to practice new tricks together, so it's nonstop learning!
It must be fun learning the craft and starting out together?
It's the best fun ever and we totally bounce off of each other – we're really lucky!
It's great to have each other to practice new magic on, run things by each other and in general, to support each other.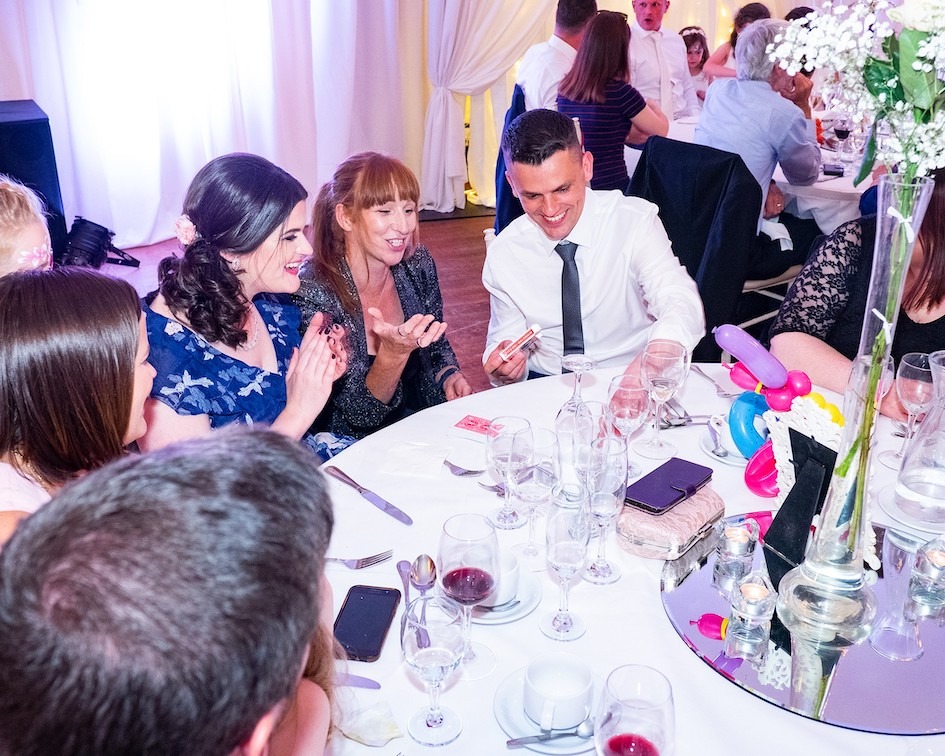 Until recently magic has been very much the domain of men, and women have been the ones getting sawn in half, right?
Yes! The first thing that comes to mind when people think of females in magic, is a damsel being willingly sawn in half or a leggy assistant in a sparkly leotard!
Magic is traditionally a male world, so when we joined the Society of Irish Magicians, we really didn't expect a warm welcome!
We were right on one account – we are the only women there!
But we couldn't believe how inclusive and supportive the other magicians were towards us – they didn't make us feel out of place at all.
How times have changed! It's an amazing society full of incredibly talented people and we've really learned a lot from them.
Why do you think women have been excluded from magic for so long? Surely it's not because they can't keep a secret is it?!!
Ha ha! No. We ladies are very very good at keeping secrets! That's just a myth amongst men!
Exclusion is the bigger question really and there are lots of theories about why women have been excluded from many areas of life, particularly clubs where knowledge is concerned.
Traditionally, there is certainly a lot of fear about women in the public sphere, and there is also something powerful about performing magic tricks, and maybe that's threatening for patriarchy?
Male magicians can be traced back as far as 2700Bc, yes, that far back! And until recently, women performing any kind of magic or trickery was deemed suspicious.
We have been called witches on many occasions, no offense is ever taken, in fact, it's a compliment!
And how is that changing?
Actually, it was Debbie McGee, Paul Daniel's assistant and wife who broke the mould of women in magic by joining The Magic Circle in 1991.
She was the first woman officially welcomed into the exclusive men's club! Fay Presto followed suit and to date, there are a lot of women in the circle!
Although the percentages are still low, there is a significant increase in the number of female magicians making a living from magic.
This year at Blackpool Magic convention there was an influx of female attendees but sadly a lack of women performing.
It would be wonderful to see more women performing and lecturing at Blackpool though. Maybe next year…!
And you never know, one day, it could be us!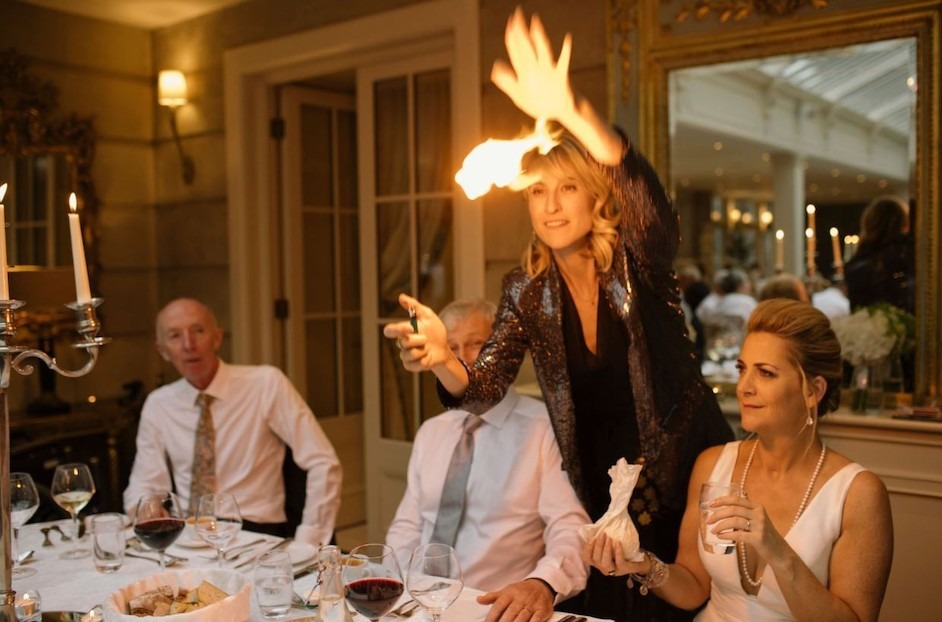 From your own experience, is it difficult to change the perception of magicians being male?
At our first magic convention, on the train journey, we were asked if we were magicians' wives!
A lot of people expect to see a male magician, but once we start performing, any qualms they had quickly disappear.
To be honest, the world is changing fast and it's becoming less and less of a problem. Some people even prefer the idea of hiring a female magician.
It was amazing to be asked to entertain at International Women's Day, for example!
Tell us a little bit about the type of events that you perform at.
We perform at weddings, private functions, corporate events etc. Weddings are our favourite – people are always on top form…
Performing for the International Women's day 10th Anniversary celebrations was an amazing experience.
It was an all-female audience and there was something really special and supportive about that dynamic.
And what kind of magic do you do?
We have a menagerie of tricks up our sleeves – we do card magic, mind reading (mentalism), coin magic… we make things disappear and love to use fire!
The great thing about close-up is that it involves so many different aspects of magic.
What's good about having a mixed bag of tricks is that not only do we get to use whatever tricks we want, we also get to use our ability to read body language, and use the power of persuasion to dazzle and amaze our audience.
That's where years of experience working with people has benefited us!
What does magic add to an event?
Magic is the perfect ice-breaker, especially at weddings or events where people may not know each other.
It creates an atmosphere of excitement and gives guests something to talk about.
Apart from the tricks themselves, is there a secret to being a successful magician?
The secret to being a successful magician is to believe in the power of magic!
And, of course, to believe in yourself, not being afraid to be the 'real' you. The more real you are; the more real your magic becomes.
A performance background is a big advantage, it gives us the confidence to approach people and be comfortable performing in front of groups.
Some say that it's 70% performance and 30% magic!
It's amazing how much of it is banter and craic with people and once we bring our female charm along to our gigs (and the sparkly leotard for the willing male assistant) success is at hand!
Do you perform together or individually?
Both – it depends on the event. We love working together, the banter is always great!
In the industry, it's unusual enough seeing one female magician perform at an event, but to see two female magicians doing their magic in collaboration, is something really special.
We are in the process of creating a duo act for stage too which is coming along nicely and helping us build an even more dynamic performance for our close up shows.
Do you have a favourite trick each?
Dee: I'm a bit old school! I love magic that involves making things vanish. My newest magic trick is my favourite and one I've been wanting to perform for ages. It entails making money, cards, objects etc disappear and magically reappear somewhere impossible!
I recently made a piece of jewellery belonging to a lovely gentleman disappear and when he found it had reappeared in a sealed envelope inside my wallet, he was so surprised he dropped his drink!
Juliette: I get such a kick out of the mind-reading! People's reactions are amazing and it's so much fun.
My favourite trick so far though was a few weeks ago: I was with my 3-year-old getting a few things in a health shop. The guy at the cash register started up a conversation and I thought I'd entertain him.
I had him sign a note. Then I set it on fire so it completely disappeared and then asked him to think of a fruit or vegetable and keep it to himself.
I then gave my 3-year-old a basket to fill with whatever fruit and veg she could find.
When she came back, I asked him if it was in the basket. Naturally, it was (my child is also very magical you see ;).
He picked up the fruit he had in mind, cut it open and his note was inside it. The reactions from himself and the people around him were priceless. I wish I had videoed it.
Interested in Booking Voilà Magic?
To learn more about Juliette & Dee, and how you can book them to perform live at your own event, take a look at their entertainer profile page.