Get To Know Teresa of the Party Mirror
Teresa runs the Party Mirror which is an interactive photo booth for creating memories at all types of parties and events. We asked her about her business, background and why she loves what she does.
Quickfire Questions With Teresa
Where are you from?
I'm from Tipperary but I now live in Leixlip.
Did you always want to have your own business?
My family moved from China to Ireland in the 1980s and opened up a Chinese restaurant. It was the only one in the town and always had a queue out of the door.
I think this must have helped inspire me because when I was a child I bought a tub of jelly sweets from the local Cash and Carry with my pocket money and converted our garage into an impromptu shop.
I delivered leaflets to all the neighbours and before long I had my first customers! So I think I've always had the entrepreneurial instinct in me.
How did you get into the photobooth business?
My aunt passed away very young and it made me think that life is too short – I had been working in financial services but wanted to do something different and to be able to spend more time with my kids. I also wanted the flexibility to set my own rules and do my own thing so I was looking for a small business idea.
I came across the Party Mirror and thought what a great idea for a party and I wished I'd had it at my wedding. Then I thought it could be a great business too.
Why do you think photobooths are so popular?
There is often a professional photographer at an event taking formal photographs. But people love fun, silly photos too. They enjoy posing with props and capturing a totally different kind of moment.
The other thing is that people rarely print photos these days – everything is digital – so they love to actually go home with a physical memento of the party.
What is the Party Mirror and what do you provide?
The Party Mirror is a state-of-the-art photo booth which allows you to personalise your photos and print them there and then. You can add emojis and even sign your own photos before they are printed.
For Corporate events a company logo can also be added to all prints. The quality of the prints is very high and I also bring a backdrop and lights as well as a nice range of props.
What makes your offering different?
As I said, the Party Mirror is a top of the range product but it's not just about the tech – I'm the face of the Party Mirror and I like to go the extra mile in customising things as far as possible to make it really personal – because every event is different. Ultimately, it's how you interact with people that counts.
Why do you enjoy what you do?
I enjoy helping people create memories. I love seeing the expressions on their faces and then the excitement while the captured moment is printing.
Although you can see the shot before it's printed, there is still that wonderful sense of anticipation as to how it will turn out on paper.
Does the Party Mirror appeal to kids or adults most?
Definitely both. Kids love signing the photos and choosing emojis etc. Adults just love having photos taken with their besties because these days we all have such busy lives that we often rarely see many of our friends.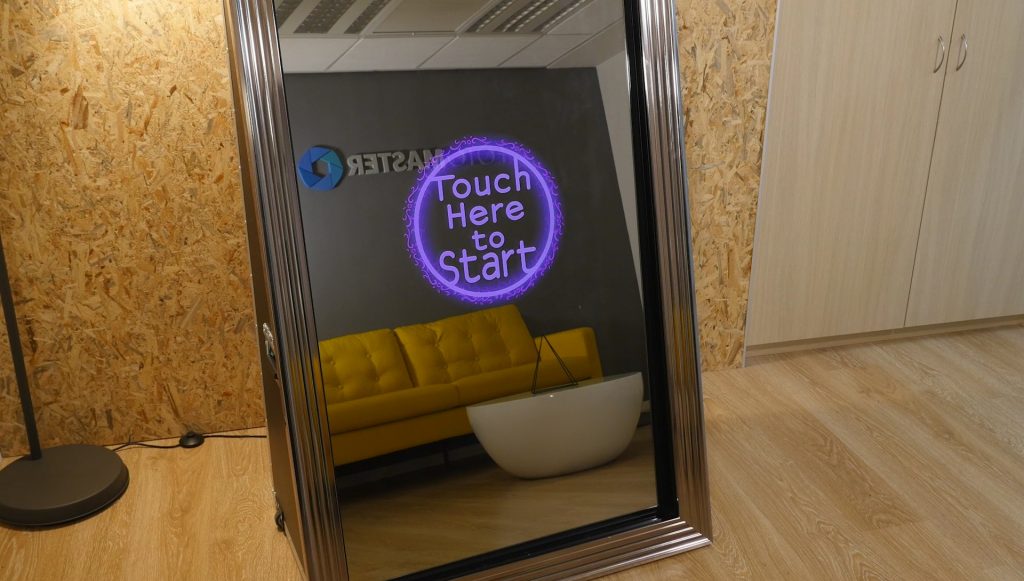 If you could take a photo of anyone who would it be?
Daniel O'Donnell. He seems like a real gent but I'd love to see for myself what his X factor is – so I'd say it would be fun to have a selfie with him in the flesh!
Tell us something we wouldn't know about you
I was an extra in Father Ted along with all my family. I'd say there weren't too many Asians involved apart from ourselves and we had a great day out!
What are your plans for the future?
I have another business idea which is complementary to the Party Mirror. Watch this space!
Why do you like PartyWizz?
It's a great source for finding entertainment due to the variety on offer. And for businesses like mine, it provides great exposure without having to spend time on marketing – freeing me to do other things.
What's your favourite joke?
Where are pirates from?
Arrrrrrrrrgentina
Interested In Booking The Party Mirror For Your Next Event?
The Party Mirror is perfect for capturing moments at any type of event. From weddings, Christenings, Confirmations and Birthdays to corporate events and festivals. Check her profiles below to book Teresa and the Party Mirror for your next event.
OR