Get To Know Michelle Janssens
Michelle Janssens runs Boom Bounce Ireland, a business that specializes in hiring out state-of-the-art, interactive Bouncy Castles for parties and events in Dublin and the surrounding counties. >> Book Boom Bounce Ireland For Your Next Event
We asked Michelle about her business, what makes it different, and why Bouncy Castles remain so popular.
Quickfire Questions With Michelle
Where are you from?
I'm from Dublin, born and bred. My mum's Irish and my dad's Dutch.
What is your background?
Banking, retail, sales & marketing.
How did you get into the bouncy castle business?
Honestly, out of frustration! Previous suppliers I've dealt with don't offer that personal touch or reward customer loyalty at all and I'm very passionate about people and making sure they have a great experience. I knew I could do it better!
Did you always want to run your own business?
We lived in Australia for 6 years and I set up my own business there and I just loved it. Loved being my own boss, being able to work around the kids and having that flexibility. I get a real kick out of seeing the kids and their parents happy.
What is the appeal of bouncy castles for kids?
They are big, colorful, exciting and lots of fun. Kids have so much energy.
Why do you think they have remained so popular over the years?
It's just great fun bouncing around with your friends, it's great exercise, gives mums and dads a break knowing the kids are happy and engaged. You also get a bang for your buck! It keeps a large group of kids entertained for hours.
What makes your products different?
We researched the market well and the future is in interactive entertainment. So we provide products that do both; interactive bouncing castles. We're the first in Ireland to bring these products to the market.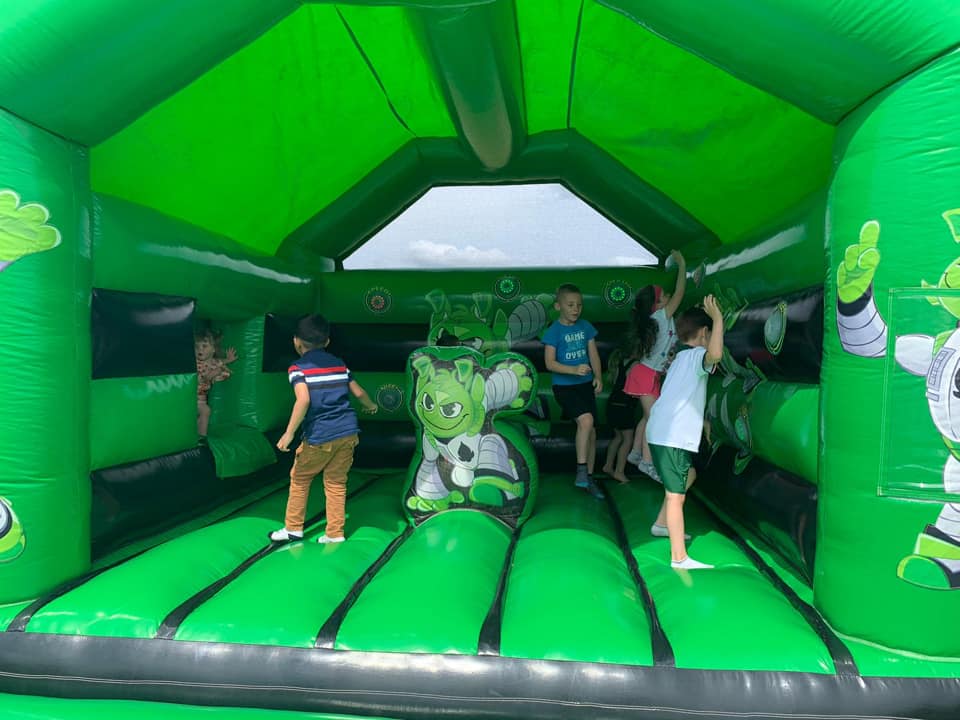 Any tips for getting the most fun out of a bouncy castle hire?
Yes, order our Interactive Play System, the kids just love it, that's why we're doing something different.
Why do you enjoy this business?
I enjoy seeing kids having fun and parents being able to catch up with family and friends. It gives me the ability to spend more time with my kids and be around for the 'important stuff'
What are the biggest challenges?
As we're a small family run business, letting people know we're here and we're doing something different is always challenging, but thankfully we get a lot of business through word of mouth and referrals.
Tell us something we wouldn't know about you?
I love singing in the car on the school run, it really annoys the kids but makes me laugh!
What's your favourite joke?
I have a phobia of bouncy castles …… they always make me jump!
What do you think of PartyWizz?
We're new to this business so meeting Hamish and having this platform to promote and grow the business is fantastic, and as a parent, it's brilliant being able to go to ONE website and being able book for that special event with lots to choose from.