Get to know Ali Baba
Ali Baba, AKA Barry Sinclair, has been in Show business for the last 40 years. He is not only a celebrated magician but also one of Ireland's top hypnotists.
Barry started out doing children's parties and after a phenomenal career performing in theatres, cruise ships and private events, he has come full circle and is again delighting children at birthday parties and family occasions.
We asked Barry to tell us about his colourful career and why he does what he does.
Quickfire questions with Barry Sinclair
Have you always been in entertainment?
I come from a legal family in Swords and since I was always a good talker, it was generally expected of me that I would join in the family tradition and become a barrister.
However, instead, I studied aeronautical engineering and went on to be Chief Boeing buyer for Aer Lingus. Although I dabbled in magic from an early age, I didn't turn professional until later.
So how did you first get into magic and hypnotism?
I was first interested in both at school. Magic came first; I remember someone making a coin disappear and being intrigued. So I got a book on magic and read up on it.
A little later a hypnotist came to our school and inspired me. Soon after I managed to hypnotise a teacher and I realized that I had an ability to make people relax and trust me.
Before long I was able to make people do extraordinary looking things like believe they are a chicken laying a square egg with sharp corners!
How did you develop the necessary skills?
As I say, I was into magic from my school days. I bought books on magic and studied it but more important than that, I took instruction in other aspects of performance. I had lessons in speaking, stagecraft and choreography from a well-known movie star. I didn't just learn tricks, I learnt a craft.
What have been the highlights of your career?
I've performed for two presidents, both Reagan and Carter and they would certainly have been highlights. I've also performed one-man shows in many beautiful theatres at home and internationally such as the Olympia in Dublin and the Edinburgh Playhouse.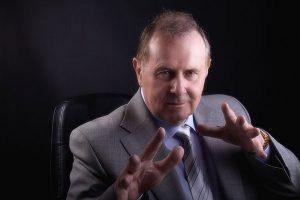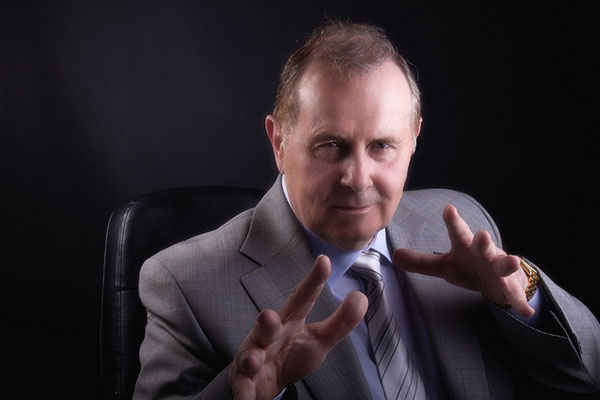 How did you get into entertaining professionally?
I was once at a party and I sung Danny Boy in front of everyone. I immediately had everyone dying with laughter and at that moment I knew I had what it takes to entertain people. It didn't matter to me what kind of entertainment it was going to be – that would be just a means to an end – but I wanted to be a performer.
So I took 6 months leave from Aer Lingus and started performing magic shows. I was offered a job entertaining on a cruise ship and I loved it so much that I never went back to Aer Lingus.
What is it about performing that you enjoy?
I love making people laugh and that's why I do it. That reaction has always been more important to me than the pay cheque. Although I've done very well out of performing for a living over the years, I would have done it for nothing. Show business doesn't feel like work. You see, if you like what you do, you'll never work a day in your life.
Why do you think you've been so successful?
I've had the right combination of a burning desire and the energy to do it. Talent is actually less important because if you've got no energy you will get nowhere.
I think it's also because I don't take myself or life too seriously. I've never needed the stature or the acclaim. I just do what I enjoy doing.
Did anything ever not go to plan?
When I was performing the hypnotism show at the Olympia theatre, several audience members used to come back and see the show night after night, and some of them would participate on stage more than once. This led other people to think that I was using stooges to make the effect happen.
I didn't need to use stooges but one time I thought it would be fun to set up a situation where one of the volunteer's wig would come off while he was on stage, simply to create a funny moment. The problem was that when the wig came off people recognized that he was the same person that has been up on stage before, and they started shouting – 'look, he is trying to disguise his stooges!'
So rather than simply creating an amusing moment, it just fueled the conspiracy theory that I was planting stooges in the audience!
Tell us about the parties that you perform now.
I wear a brightly costume to create a magical atmosphere from the start. I also have an assistant who is dressed as a Genie as I want to create a theatrical experience in your own home. I do a mix of colourful magic that appeals to both kids and adults; the adults enjoy watching the kids enjoying it, but they also enjoy it themselves.
Is the kid's party experience different now to when you first started performing?
Magic is pretty universal but I think it's harder to engage children these days, and so the magic has to be particularly eye-catching.
How many shows do you estimate you have done over your career?
I've probably done around 700 shows a year for 40 years which makes 28,000
If you could perform for anyone you've not yet entertained, who would it be?
Barak Obama. For a great show, you need a great audience and I think he'd be perfect.
Tell us something we wouldn't know about you?
I'm also a clinical hypnotist, using hypnotism, for example, to help people give up smoking.
I know you love humour so tell us a joke.
I'm a mind reader. I know in advance what I'm going to forget!
What is your top party tip for someone hosting a stress-free kids party?
Never feeds the kids during the show.
Why do you like PartyWizz?
Because, as a performer, it leaves you to concentrate on what you do best. You don't have to worry about anything and that would be the same for the person who is booking you.
To learn more about Bary, or to book Ali Baba to entertain kids at your next event, view his profile page.