Niall O'Loughlin is widely regarded as one of the 'best in the business' and the most well-known caricaturist in Ireland.
He has an uncanny ability to create an amazing caricature portrait in just a few minutes.
We asked Niall to tell us a little about his journey over the last 20 years of being a professional caricaturist and how he has adapted to the current climate.
Quickfire questions with Niall
Have you always been artistic?
Yes, I've always loved drawing, but I started my career as a classical animator which I did for 15 years before becoming a caricaturist. I worked on many well-known movies such as 'Teenage Mutant Ninja Turtles' and created the characters for 'Give Up Yer Aul Sins.' by Brown Bag Films.
How did you get into caricatures?
I started working for Guinness part time, doing caricatures for events and promotions. It went really well and suggested a real gap in the market, so I gave up my job and put all my energy into the caricature business.
And how did you build the business to becoming Ireland's leading caricaturist?
A lot of hard work! It started off with word-of-mouth and then I was invited on the Late Late show which was great exposure. I also realised there was a huge opportunity for the wedding business which I started to promote.
Who were your biggest inspirations?
Sebastian Krüger is an excellent German caricaturist who was a big inspiration but I also loved Terri Willers, a well-known cartoonist and comics artist from London who settled here in Ireland.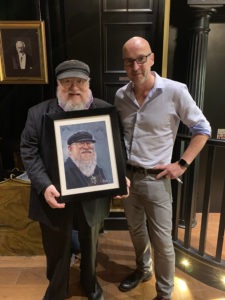 What makes a great caricaturist?
The most important thing is you have to be a good artist. There are so many bad artists out there who think they can be caricaturists but it doesn't work.
Why do you enjoy doing what you do?
I just love drawing. It's something I would do whether I was paid to do it or not. I'm only really happy when I'm drawing.
I guess caricatures are not always flattering to the sitter! Are people's reactions always positive?
The key is that you only draw people who want to be drawn; they have to be comfortable with the idea – and most people don't take it too seriously.
But I'm generally very flattering anyway and tend to accentuate good features rather than make extreme exaggerations. Think of the beautiful eyes in a Disney cartoon for example.
Over time I've learnt through experience to read people, so I can tell what I can and can't draw. I tend to err on the side of caution if I'm in any doubt.
You've drawn lots of very well-known people. What's your most memorable commission or live drawing?
The most famous would probably be Pelé.
I also painted Dean Norris, the Actor from Breaking Bad. I met him on the Saturday Night Show when RTE asked me to draw him as a gift for coming over.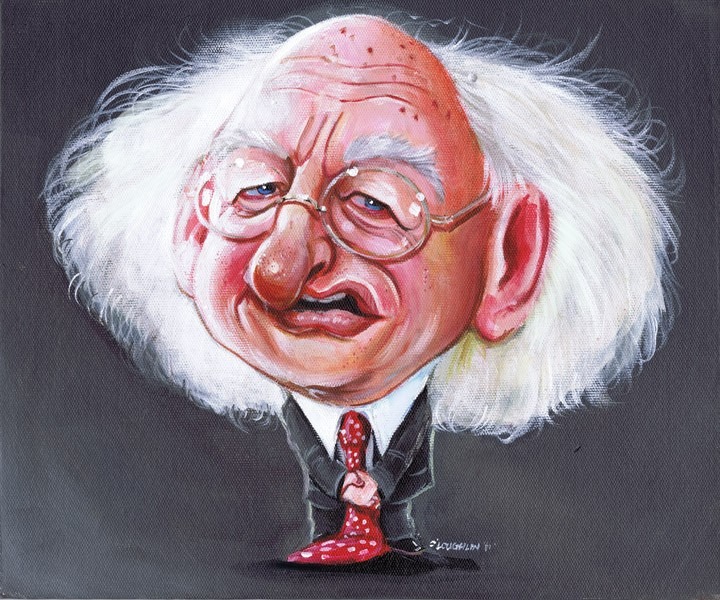 Who would you most like to draw live that you haven't already drawn?
I would love to draw Bruce Springsteen.
Tell us something we wouldn't know about you.
I'm the biggest A-ha fan in the world. Is that embarrassing enough?!
How has Covid 19 affected your business and how are you adapting in light of the current challenges?
Although I know that many businesses have sadly suffered during this time, in all honesty, I have never been busier. The virtual world has been very kind to me.
I had a bit of a head start in that I was already offering digital caricatures for events, so people can see the image come to life on a screen in real-time.  It was then natural to take this technique online. 
I had never heard of Zoom before but I just took the plunge and it suits me perfectly. Since there is no need to travel I can say yes to lots more requests, and therefore my business has actually grown.
One of my colleagues once very kindly said to me that "I'm not just a great artist but I'm a great innovator". I think the ability to adapt has been a crucial advantage for me over the last few months.
So tell us a bit about your virtual offerings.
One of the things I offer is virtual workshops which is a whole new way of entertaining and a totally new market for me. It's an opportunity I spotted just like I did with the wedding market when I started 20 years ago.
The idea is that I do a demonstration by painting someone live online and then I teach everyone how to draw. The participants then have time to draw someone after which they hold up their creations for group scrutiny! I then judge the best and draw the winner as a prize. It's really interactive and people find it a lot of fun.
I also offer regular caricatures drawn live in real-time over Zoom. This can work well, but the time needs to be limited; it's difficult to make drawing alone into something that's entertaining for too long without some kind of interaction. This means that I spend more time drawing in the office rather than live.
Can you give us your top tips for successful online parties and entertainment?
Keep an open mind. Online parties can be great when they are done right. Forget any preconceptions you may have.
But remember they are not the real world. Keep them short and sweet so your guests leave wanting more rather than being bored.
Is virtual entertainment here to stay?
Absolutely. Especially for the corporate market. The pandemic may pass but remote working is here to stay. Why fly a team half way round the world at huge expense if you don't need to?
Interested in booking Niall O'Loughlin?
Interested in booking Niall for your upcoming event? Find out more on his PartyWizz profile.