Kristin Kapelli has been singing since she was 7. Born in California and raised in Kansas, Kristin now wows audiences with her amazing voice all over Ireland.
She's one of the most versatile singers around, and is booked for private events for all occasions.
We caught up with Kristin and asked her about her career and influences, and to share some stories with us.
Get To Know Kristin Kapelli
Did you always want to be a singer?
I knew I wanted to be a singer from the age of 12. I got my first real taste for it when I was in a biblical-themed musical at school. It was filmed for local television, we toured around the local churches and I was hooked.
What brought you to Ireland?
I first moved to Ireland in the early 90s and studied at the College of Music in Dublin. I then became a singing teacher at the Helen Jordan stage school and enjoyed working with kids.
How did you get into singing professionally?
I began singing in a nightclub and then I started getting booked for private events.
How would you describe your singing style?
I like many different types of music and love singing everything from Jazz and Blues to Rock and Pop. So I have a pretty wide repertoire.
What makes you different?
I guess my style is pretty unique in that I add musical comedy, and I always involve the audience. I'm also an MC so I can combine the different elements for the same event.
What kind of events do you sing at?
I sing at variety shows, host charity events, and am often booked for weddings and private parties. As well as singing for adults, I also put on singing parties for kids which are a fun mix of karaoke and games, combined with me singing.
Where can we hear you sing?
Well, you can get a taste of me singing on my PartyWizz profile. To hear me live, I have a regular gig in Café Rubis in central Dublin on Friday nights.
Who inspired you?
I'd say Arethra Franklin and Gladys Knight both had a huge influence on me.
What's your most memorable performance?
One of the most memorable was performing at Alan Hughes' 50th birthday party
along with Niamh Kavanagh, Brian Kennedy and Mary Byrne. It was great fun and I was also asked to perform at his wedding.
Did any gigs not go to plan?
Oh gosh there were a few in the early days! I was in a Tina Turner tribute band in the late 90s. We were doing really well with people queueing round the block for our performances.
We had one gig in a small town in Cork in a local bar and, when we arrived, I remember thinking it was going to be tough as there was a really basic set up and the staff didn't seem to be very interested. But I thought it would be fine because it was really full-on show with high energy singing and all the Tina Turner choreography.
But as we played through our set, I realised that literally no one was watching. There was no engagement at all – we seemed to be invisible. Despite the fact we had a 7-piece band, flashing lights and a full set-up, it was as if we were just a juke box!
To top it all, in the middle of our set, a punter went up to our sound engineer and asked if he would play 'Galway Girl!' That was really a Twilight moment for me.
Used to roaring approval and encores, we finished the show to blank reactions.
Having silently packed up our gear, as we were leaving the pub, all the punters immediately started dancing wildly and singing along to 'Galway Girl' on the duke box!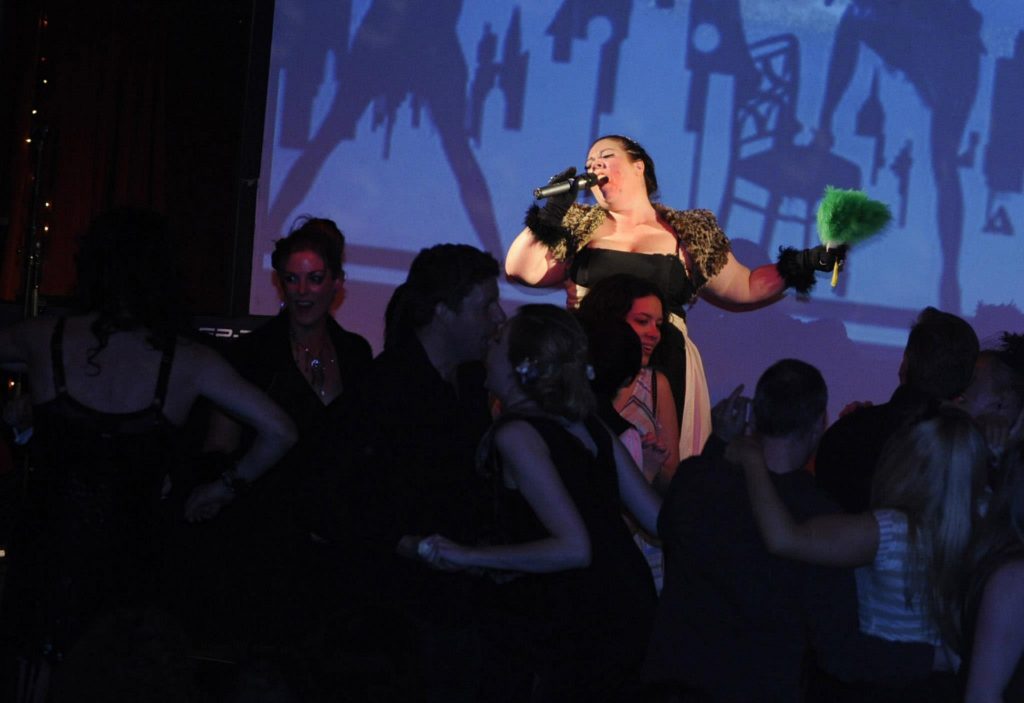 Who would you most like to perform for and why?
Probably Gladys Knight who, as I said, is one of my idols and early influences. She's very supportive of talent and seems to be really fun, so we'd be sure to have a good time afterwards!
How has the current Covid 19 restrictions affected you?
As we speak live performance still has some restrictions at the moment which is a real shame. But I am used to singing outside so I can be booked for garden parties and outdoor events and smaller indoor events. And fingers crossed, things will be moving back to normal soon enough.
What would you be doing if you weren't a singer?
I'd probably be a screenwriter. In fact, I'm working on the script for a movie right now, so watch this space!
Do you have a favourite joke?
I'll tell you my Great Grandmother's favourite joke. An amazing woman who lived to be 102. She always used to find this incredibly amusing….
Q: What did the male pile of pancakes say to the female pile of pancakes?
A: You are well-stacked!
What do you like about PartyWizz
I love the wonderful mix of clients I've met while doing PartyWizz gigs.
Let Kristin's unique brand of singing create an amazing atmosphere for your own event. Visit her kids or adults profiles for more information and to book.
Interested in Booking Kristin?
To learn more about Kristin, and how you can book her to perform live at your own event, take a look at her entertainer profile page.